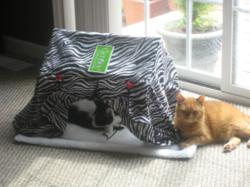 The Gypsee is a Hide and Seek Delight
(PRWEB) November 13, 2012
With its lair-like qualities, hiding out was never more fun. By definition, a lair is where a wild animal sleeps. Today's housecats are always looking for the perfect place to nap, and what could be more appropriate than a Gypsee® to give them privacy and comfort all in one.
The Gypsee® name was coined when considering its tent-like appearance and the ability to see out without being seen. These features make the lightweight and portable Gypsee® an ideal cat bed or lair.
"Created with the owner in mind, the fashionable covers help make a statement that this place is for special guests. The function and size is designed primarily for cats or perhaps even small dogs," says creator and designer Mike Faiola.
The Gypsee® was first inspired by acknowledging that cats have a primal instinct to hunt. "A powerful key to understanding a cat's behavior is observation, but it becomes far more effective when coupled with what we know about life in the wild. And by nature, cats are very efficient hunters that rely on stealth to capture their prey."
A lair is part of the natural habitat for cats and with this as a reference for design, the cover was given a flowing tent-like structure, which makes the Gypsee® an indoor lair of sorts.
Sitting freely on a plush mat the fashionable cover creates a stealthy see-through refuge, without restricting movement, which provides the natural freedom cats desire.
The fashionable Gypsee® is more than a portable place for cats to sleep; it's a hide-and-seek haven with possibilities limited only to one's imagination.
To find out more about how you can satisfy your kitty's inner desires, visit http://www.smoochdoggie.com and read more about how this unique product came to be.