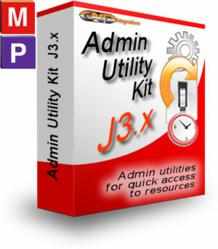 The Admin Utility Kit is a real time saver for working with Joomla 3.0
(PRWEB) November 14, 2012
CNP Integrations announces the immediate availability and release of their useful set of tools called the "Admin Utility Kit" for the powerful open source community driven Joomla CMS. This collection of Joomla extensions is targeted at helping Joomla administrators increase productivity and offer quick access to back end resources. This release comes out in synchronization with CNP Integrations project management team's participation in the Joomla World Conference, to be held November 15-18 in San Jose CA (http://conference.joomla.org) CNP Integrations top project management team will be presenting 4 unique case studies and sharing knowledge with attendees of the event.
The Admin utility Kit is a thoughtful collection of extensions built by the Joomla development team at CNP Integrations (http://www.cnpintegrations.com) specifically for the new Joomla 3.x series release. The Admin utility Kit for Joomla 3.x is a unique collection of custom extensions engineered to improve efficiency for administrators of Joomla sites. Productivity efficiencies are gained by reducing the amount of clicks required to toggle editors tools, extending sessions to avoid having to log in multiple times while working, remembering your click paths with last visited links and provide the ability to generate custom quick icon links within the administrator user interface of the Joomla! CMS system.
Several of the current collection of 7 extensions (plugins and modules) allows users to set parameters making them flexible to a variety of configurations. The code is open source GPL so developers can update or modify features based on the original code. "These ideas came out of our project managers searching for ways to improve efficiency and have shortcuts to working in a browser based editing environment. Adding these tools to our development projects helped us stream line processes. The Admin Utility Kit is a real time saver for working with Joomla 3.0," says Christopher Nielsen, CEO and co-founder of CNP Integrations.
The Amin Utility Kit consists of several extensions built around four unique feature sets and will offer both individual extension downloads or a an easy to install bundle of all four collections.
Admin Edit Switch is a Plugin and Module combination that allows you to quickly switch between editors without having to return to your profile or global settings.
Admin Quick Icons is a module that allows you to configure custom links and assign images to them. This provides the ability to build your own collection of resource links with associated icons which could be accessed as your own custom dashboard.
Admin Session Extend is a utility that allows you to extend the administrators user session. This can be helpful to admins that want to keep their sessions active while jumping between activities. This is a collection of 2 plugins that work together. The Remember me backend Provides remember me functionality. Session Extend will work as follows: If user does not opt for remember me, this plugin will set remember until browser closes.
Admin Last Links is a Plugin and Module combination for quickly accessing your last visited links while working in the4 admin area of your Joomla site. This can reduce the number of windows you need to keep open and allow you to return to most recent locations that you have navigated to in your Joomla! Admin area.
The Amin Utility Kit and any of the included extensions are FREE with limited support and available for download at http://www.cnpintegrations.com/joomla-extensions/admin-utility-kit-joomla-extensions
The Admin Utility Kit has been submitted to the Joomla Extensions Directory and may also be available there in the future by visiting: http://extensions.joomla.org
Joomla! CMS http://www.joomla.org is an award winning open source content management system and web application development platform that is used on over 2.8 % of all websites on the internet with more than 35 million downloads worldwide. Joomla is a truly unique business model run and governed by an international community of synergetic volunteers. It is supported by a loyal business community of professional developers and innovative designers.
CNP Integrations is known for delivering world class support for Joomla CMS
CNP Integrations has an engaged global team of technical and configuration experts and employs highly skilled programmers and project managers with the focus of providing the most responsive web application support services for the Joomla CMS and other compatible technologies. CNP Integrations is a business division of Creative Networks Protocol Inc., a Massachusetts based corporation. CNP Integrations offers premium technical support and hosting with a value building methodology and a proven process of project management success.