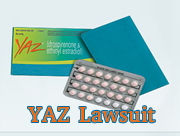 As of October 15, 2012, Bayer had settled about 3,490 Yaz/Yasmin venous clot claims involving pulmonary embolism or deep vein thrombosis for a total of about $750 million
(PRWEB) November 13, 2012
As of October 15, 2012, there were about 12,400 Yaz/Yasmin lawsuits pending in the United States, and an additional 720 pending claims that had not been filed, according to Bayer's Quarterly Report. Plaintiffs in these Yaz and Yasmin lawsuits allege that they suffered dangerous and potentially fatal side effects such as pulmonary embolism, deep vein thrombosis and stroke from the use of Yaz and Yasmin birth control pills. As of October 15, 2012, Bayer had settled about 3,490 Yaz/Yasmin venous clot claims involving pulmonary embolism or deep vein thrombosis for a total of about $750 million.
Bayer's quarterly report was released shortly after another study, which was funded by the U.S. Food and Drug Administration (FDA) and led by Kaiser Permanente of North California, was released in October 2012 revealing a 77% increased risk of venous thromboembolic events and a double risk for arterial thrombotic events with the use of drospirenone-containing birth control pills, such as Yaz and Yasmin, when compared with the risk of four low dose estrogen birth control pills.
These findings are nothing new. Yaz and Yasmin birth control pills have been the subject of controversy for several years due to the associated increased risk of venous clots such as pulmonary embolism and deep vein thrombosis. Just since 2009, there have been over eight published studies finding drospirenone significantly increases the risk of blood clots in women. These studies include Yaz studies released The Canadian Medical Association Journal, The British Medical Journal, the FDA. Yet it wasn't until April 2012 that the U.S. Food and Drug Administration (FDA) required a label change on Yaz and Yasmin birth control pills warning of these potentially fatal side effects.
Ennis & Ennis, P.A. continues to offer free, nationwide, confidential consultations to women who have suffered venous clots such as deep vein thrombosis or pulmonary embolism while taking Yaz or Yasmin birth control pills. Contact the lawyers of Ennis & Ennis, P.A. today by calling toll free 1-800-856-6405 or by going to http://www.ennislaw.com and completing an online case evaluation.
Ennis & Ennis, P.A. is a nationwide law firm with offices in Ft. Lauderdale, Miami and Washington D.C. that concentrates its practice in mass torts and represents individuals against pharmaceutical companies, as well as medical device makers.
Ennis & Ennis, P.A. has been representing clients individually since 1986 and has recovered over $100 million in settlements for its clients.
Ennis & Ennis, P.A. is also investigating cases involving Actos, Avandia, Fosamax, Plavix, Pradaxa, Paxil/Birth Defect, Zoloft/Birth Defect, Prozac/Birth Defect, Depuy Hip Recall, Wright Conserve Hip Devices, Wright Profemur Hip Devices, Zimmer Hip Recall, all Metal-on-Metal Hips, GranuFlo and NaturaLyte Dialysis Concentrates, Medtronic Infuse Bone Graft, Depakote, Reglan, SJS/Dilantin, and Yaz, Yasmin, Ocella Birth Control Pills.
Remember the law limits the time in which you can file a claim, so don't wait to explore your legal rights. Call today toll free 1-800-856-6405 or visit http://www.ennislaw.com.