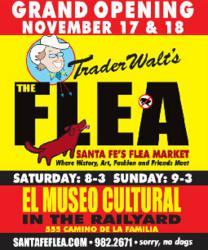 "We have only a couple of the 92 spaces still available at El Museo for our Holiday Market, so we're expecting booming business there as well" stated The Flea founder, Walt Borton
Santa Fe, New Mexico (PRWEB) November 12, 2012
After closing its outdoor market at the Downs October 28th, The Flea will re-open for a Holiday Market 8 a.m. to 3 p.m., Saturday, November 17, , 2012 and 9 a.m. to 3 p.m., Sunday, November 18, 2012 in its indoor home, El Museo Cultural on the Santa Fe Railyard, just across the tracks from Farmers Market. The Flea is featured in the SantaFe.com business section.
The Holiday Market includes one three-day weekend, adding 9 am – 3 pm Black Friday, November 23rd during Thanksgiving Weekend with the normal hours of 8 a.m. to 3 p.m., on Saturday, Nov. 24th and 9 a.m. to 3 p.m. Sunday, Nov. 25th. Holiday Market continues Saturdays and Sundays through Dec 30 and from January 5th The Flea will be open with day-trading both weekend days every weekend through April 28, 2013.
Ninety-two vendors will participate in The Flea's Holiday Market, which always features fascinating new and recycled gift items, vintage ornaments, antiques, used stuff, fine craft and art, jewelry, vintage clothing, cowboy paraphernalia and the great stuff expected from a great flea market.
The Flea's fourth indoor winter season at El Museo will be the longest yet, including every weekend between Nov 17-18 and April 28th. Starting January 5, 2013 The Flea offers first-come-first-served day-trader tables for $20 a day for individual Saturdays and Sundays.
Throughout its indoor season, The Flea hours will be 8 a.m. to 3 p.m. Saturdays and 9 a.m. to 3 p.m. on Sundays.
Regular charity spaces at The Flea this year include Desert Paws, an animal rescue/adoption group from Pena Blanca and Need and Deed, a new Santa Fe service agency for the homeless and near-homeless. The Desert Paws space features animals for adoption at least monthly and raises funds selling pet related items. Need and Deed's space is a mini-thrift shop raising funds by selling items donated to the agency.
Other local charities and animal adoption groups will appear at the Flea throughout the Season, and this year, in addition to its regular advertising program The Flea is supporting The Santa Fe Community Orchestra as an advertiser and a sponsor of both of the Orchestra's "Side by Side" performances with the public schools.
"We had the best season yet at the Downs," said "Trader Walt" Borton, who founded the market four years ago, "on our biggest days hosting more than 250 vendors." He continued, "We have only a couple of the 92 spaces still available at El Museo for our Holiday Market, so we're expecting booming business there as well."
Contact Information:
The Flea at El Museo
Saturdays 8-3 Sundays 9-3
Walt Borton - Founder
505 982 2671
http://www.santafeflea.com
About SantaFe.com:
SantaFe.com provides locals and visitors to Santa Fe alike the most current interactive platform for events, music, arts, business, dining and lifestyle. SantaFe.com is a division of Hutton Broadcasting, located at 2502 C. Camino Entrada, Santa Fe, NM 87507
Contact Information:
Scott Hutton
SantaFe.com / Hutton Broadcasting
http://www.santafe.com
(505) 471-1067 (Media inquiries only, please)