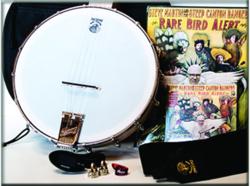 Spring Valley, CA (PRWEB) November 14, 2012
American made in Spring Valley, CA, the Deering Goodtime Rare Bird Alert 5-String banjo is the latest in the ever popular Goodtime series of banjos made by the Deering Banjo Company. Inspired by Steve Martin's Grammy Nominated recording Rare Bird Alert, the banjo features artwork influenced by the CD cover on the peghead. Hailed for their light weight, bright sound, and ease of play, the Deering Goodtime Rare Bird Alert openback is just right for the beginner to learn on and light enough in weight for the more seasoned player to take on vacation, business trips, or family outings.
The Goodtime Rare Bird Alert package includes a durable black gig bag embroidered in gold with the Deering name for easy portability and protection of the banjo. Also included is a strap, tuner, set of picks, the Grammy Award Nominated Steve Martin Rare Bird Alert CD, and the banjo tablature book that includes all the songs on the Steve Martin Rare Bird Alert CD so that you can learn the songs at your leisure. The banjo and package are available now for only $649, factory direct or through authorized Deering dealers worldwide.
Deering Banjo Company was founded in 1975 and has grown to become the largest manufacturer of American made banjos in the world. Deering is located in Spring Valley, CA and produces quality 4-string, 5-string, 6-string, and 12-string banjos. Deering is proud to have artists such as Bela Fleck, Mumford & Sons, Steve Martin, Taylor Swift, Keith Urban, the Avett Brothers, and Dropkick Murphys play their banjos. To learn more about Deering Banjos, go to http://www.deeringbanjos.com.