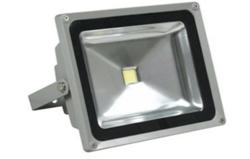 (PRWEB) November 28, 2012
Zhongtian Lighting, a leading LED flood light manufacturer in China, introduced 50W water-proof LED flood light to customers for outdoor lighting This high powered floodlight is visually attractive and creates a warm welcoming atmosphere in a usually dark uninviting place. It is widely used in billboards, highways, railways, tunnels, bridges and culverts, squares, buildings, hotel façade, and other outdoor places.
The light is sealed by silicone rubber, it makes the heat sink, end cap and the glass combined perfectly with each other, and the surface is passed the treatment like anodic oxidation and plastic spraying. Choice from a bright white or a softer option to highlight the property, illumination is essential for security, safety and convenience making everyday tasks more practical.
The LED flood light uses lower power consumption to produce bright white light. The white beam of light produced by LED flood lights is very much similar to daylight. This makes it very easy to see and retrieve items. When used in stadiums, it makes the spectators feel as though it is day time. Emitting no heat, UV or IR light radiation, the [ZT-FL-50W] LED flood light is extraordinary in providing glare free and energy-saving lights compared to traditional lamps. It outputs 4500lm-5000lm with a luminous efficiency of 90lm-100lm.
Zhongtian Lighting uses the high pure imported aluminum as the reflector. This kind of reflector has high reflecting efficiency and can ensure the luminous flux. The special design of this reflector can improve the light uniformity ratio and utilization. Customers can control the light inside of a useful area.
The advantages of the LED floodlights overweigh traditional lamps. It is environment friendly and energy saving true. The floodlights do not have lead, mercury and any other contamination. Besides, it doesn't contain adverse glare or flicker, which eliminates fatigue and distraction of vision for good light distribution. It can reach its normal light as soon as it rotates, preventing the long process of the onset of traditional light. New applications like license plate recognition and other types of vehicle and personnel recognition with video capture are proved to be an effective solution.
Zhongtian Lighting is devoted to enriching its production line and improving the quality of product not only in lifespan but also in its appearance. The innovation and R&D is the crucial point of Zhongtian Lighting. OEM and ODM service are also available. It manufactures all kinds of LED lamps for industrial, commercial and public indoor lighting applications. All products of Zhongtian Lighting are granted a 3-year warranty. The company is very confident to produce many more practical and popular LED bay light series for the customers all over the world.
For more information, please visit http://www.daoled.com/LED_Outdoor_Lighting/LED_Flood_Lights/.