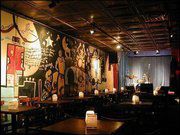 "We consider it a privilege to showcase local and national talent on our stage," says managing partner Donal McCoy. "And we are fortunate to be surrounded with a talented and dedicated staff."
Philadelphia, PA (PRWEB) November 13, 2012
The Tin Angel, considered to be one of the premier listening rooms in the country, celebrates its 20th anniversary this November.
"It does not seem that is was 20 years ago, that I was asked to bring talent to a small room over Serrano restaurant, in the Old City section of Philadelphia," said Larry Goldfarb, the Tin Angel's booking agent since its inception. "When asked if we could succeed as an original room with 115 seats, I answered that if we did everything right, we might have a chance for a short run. And thus, Tin Angel was born."
That "short run" has now spanned two decades with artists such as Francis Dunnery, Ken Kweder, Citizen Cope, Rik Emmett, Donovan, G. Love and the late Gil Scott Heron gracing the stage.
To celebrate this anniversary, the Tin Angel has assembled an all-star lineup of local and national acts that have supported them through the years. Artists scheduled include Philly's own Ben Vaughan on 11/13 (flying in from LA to play the same date he did when he opened the Tin Angel on 11/13/92), Erin McKeown on 11/18, George Stanford on 11/23, Jeffrey Gaines on 11/24 and Dar Williams on 12/2.
For more information and a complete schedule, visit http://www.tinangel.com