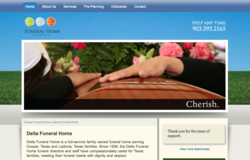 The Delta Funeral Home looks forward to serving our customers and community with beautiful online memorials.
Austin, TX (PRWEB) November 14, 2012
Delta Funeral Home, a family owned and operated funeral home with a long history of serving Cooper and Ladonia, Texas, launched its new website at deltafuneralhome.com. The redesign of the site by Funeral Home Resource, online marketing specialists for the funeral industry, represents Delta Funeral Home's desire for a user-friendly site to meet its commitment to serving the greater Cooper, TX community.
Ted Alley, owner of the Delta Funeral Home, prefers the attractiveness and ease of use of the site. Alley wanted a site that met the needs of his close knit community, providing information about funeral services and cremation in Cooper and Ladonia, and offering online memorials where friends and family can support the bereaved.
With design input from the Funeral Home Resource team, Ted Alley created a funeral home website that

Is serene, yet bright
Is easy to navigate
Informs visitors about Cooper funeral planning
Allows visitors to contact the funeral home without making a call.
A special feature of the site is the online memorials. Delta Funeral Home's Cooper area clients now have more options for creating a unique online obituary posted on this funeral home website. Clients enjoy a full-page obituary with individualized background and icon elements as well as memorial photos and messages posted by family and friends.
Mr. Alley is pleased the website is complete and ready to represent his Cooper funeral home, "Our website is one of the many ways we reach out to our community, educating them, and offering support. The Delta Funeral Home looks forward to serving our customers and community with beautiful online memorials, and our site's new blog feature to share information."
About Funeral Home Resource
Funeral Home Resource, the outsourced online marketing department for funeral homes, grows market share for funeral homes through on-line marketing to families in need of funeral home and cremation services. Funeral Home Resource develops industry-leading websites, operates lead-generating websites and FuneralHomeresource.com, the premier on-line directory of funeral homes. FHR is trusted by the most established, most respected names in the funeral industry, handling all their online marketing efforts and overseeing the creation, capture, delivery, and conversion of thousands of online inquiries for them each month. Funeral Home Resource specializes in no-risk performance marketing arrangements.