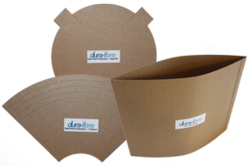 "Our steel packaging prevents tearing, which eliminates costly product damage and wasted time and money."
Menasha, WI (PRWEB) November 13, 2012
Dura-Fibre has met the unique packaging needs of steel manufacturers with their durable, puncture-proof laminated fiberboard. The resilient product helps steel manufacturers store and deliver steel coils safely without the risk of product harm or loss.
"Many of our customers have used corrugated packaging in the past, and found that it tears very easily," said Marty Mathys, an industrial packaging specialist at Dura-Fibre. "Our steel packaging prevents this, eliminating costly product damage and wasted time and money."
Dura-Fibre's steel packaging board is manufactured with a blend of fibers that result in a strong base product. Multiple pieces of fiberboard are laminated together to create a finished product designed to resist tears, punctures, and other abrasions better than corrugated protection. The product is lightweight and easy to handle, and slightly pliable to bend with the shape of the coils.
The packaging can be customized by size, score, and die-cut to fit the customers' needs.
Interested steel manufacturers can request a free sample kit by contacting Marty Mathys at (920) 969-3676 or mmathys@durafibre.com. For more information on Dura-Fibre's steel protective packaging, please visit http://www.durafibre.com/pages/protective-packaging.html.
# # #
About Dura-Fibre
Dura-Fibre, headquartered in Menasha, Wis., creates industrial packaging solutions and heavyweight folding carton materials for use in a wide variety of functional performance and packaging applications. The company has been providing quality products and services for over 75 years.
Media Contact
Andrea Dunsirn, President
aMark Marketing Services, LLC
920-205-2541 or adunsirn(at)dunsirn(dot)com