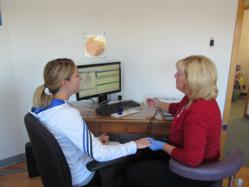 For women, especially those who with digestive disorders, and multiple miscarriages and problems with fertility, it is vital to be screened for celiac disease or screened for a gluten sensitivity.
Orland Park, Il (PRWEB) November 15, 2012
Barbara Griffin, NMD, CNC, Certified Gluten Practitioner and founder of Vital Health,Inc. providers tips on how to overcome infertility with a holistic approach. Dr. Griffin, who has successfully helped hundreds of clients overcome struggles with fertility, outlines some of the critical factors that contribute to infertility and offers a natural course to conception.
Dr. Griffin began, "In my 24 years in assisting clients address health concerns and work toward a path of optimal health, one of the leading offenders that I have seen adversely affect people's health is gluten. For women, especially those who with digestive disorders, and multiple miscarriages and problems with fertility, it is vital to be screened for celiac disease or screened for a gluten sensitivity."
Gluten is a composite formed from several different proteins. It is found most commonly in wheat and other related grains, such as barley, oats, rye and spelt. Adding texture and a characteristic chewiness to baked goods, gluten is used in a wide variety of other foods as a thickener and binder, flavor enhancer, and protein supplement. Some people can develop intolerance to these proteins. Over 55 diseases have been linked to eating gluten. A gluten-free diet often helps to alleviate symptoms caused by this intolerance and prevents further damage to the body. The medical community is now widely accepting the findings that avoiding gluten can help improve many auto immune diseases, as improve the ability for women to conceive and decrease the miscarriage rate. For example, gluten has been shown to decrease a woman's ability to ovulate.
"Unfortunately, many of the symptoms of celiac disease and gluten sensitivity present themselves like other digestive issues like irritable bowel syndrome, diverticulitis and inflammatory bowel disease. Clinical studies have shown that women with untreated celiac disease have a higher rate of infertility with difficulties in conceiving. Untreated celiac disease also seems to affect a man's fertility as it creates a hormonal imbalance that causes reproductive disturbances," explained Dr. Griffin.
Dr. Griffin explained that it is critical for women to ask their physician to be tested for celiac disease or gluten sensitive if they have one or more of the following conditions. Each of the conditions below has been linked to having a higher tendency to having celiac disease:

Thyroid autoimmune disease
Endometriosis
Polycystic ovary syndrome
Other autoimmune conditions
Digestive conditions such as food allergies and irritable bowel syndrome.
"When a client comes to see me with concerns regarding infertility, I first complete the Electro-dermal Screening (EDS) which provides valuable insight and can help identify key weakened or stressed areas within the body," explained Dr. Griffin. "At this point I can develop tailored approach to the client's health needs, which may include introducing supplements, and other nutrients that are critical to fertility and a health pregnancy."
Common treatment approaches include:
1. Introduce a gluten-free diet.
Dr. Griffin stresses that it is important that the client follow the gluten-free diet during the duration of their pregnancy and while they are breast feeding. If women are diagnosed as having celiac disease, it is vital they remain on a gluten-free diet for life.
2. Evening Primrose Oil
Evening Primrose Oil has been used successfully for decades to help boost fertility in women. Containing high levels of the Omega 6 essential fatty acid, gamma-linolenic acid (GLA), an essential fatty acid that the body uses for growth and development, evening primrose oil may help boost fertility efforts by strengthening the placenta, helping to increase cervical mucus and increase the uterine lining which is the nurturing environment a fertilized egg needs to implant and grow. Once a womanbecomes pregnant, they should discontinue Evening Primrose Oil.
3. Vitamin B12 and Folate in the methylated forms.
Vitamin B12/Folate is especially important if the client has a methylenetetrahydrofolate reductase (MTHFR) gene mutation. Some MTHFR mutations are more serious than others as far as their ability to cause problems during pregnancy, especially in the first critical weeks. Dr. Griffin recommends clients take supplements of Vitamin B12/Folate because it can assist the body if a MTHRF mutation is present.
4. Vitamin D
5. Iron
"My goal when working with a client who is experiencing issues with infertility is to educate and help them gain insight to what their body needs. I want to provide them with the tools they need to strength their body as it prepares to create a new life. I feel that through education, working closely with their physician, and following the recommendation I suggest reaching their goal fertility goal is possible," concluded Dr. Griffin.
Celiac disease is diagnosed through blood work, and confirmed with an small intestinal biopsy. In order for the test to be accurate, the patient must be consuming wheat and gluten for some time. Dr. Griffin recommends following-up with your medical doctor before beginning a new supplement or treatment plan. Genetic testing also provides valuable insight in gluten and autoimmune issues.
About Vital Health, Inc.:
At Vital Health, Inc. Dr. Griffin integrates a whole body approach with the intention of facilitating wellbeing and optimal health amongst her clients. Dr. Griffin's specialties include: traditional naturopathy, nutrition, EAV Meridian Stress Assessment, Food Sensitivity Screening, Environmental Screenings, Iridology, SKASYS, Live Blood Cell Analysis as well as established integrative therapies such as Neuroemotional Therapy, Neuromodulation Technique, Cold Laser Therapy, Emotional Stress Integration and Neuro-link Technique. In addition, Jade Derma Ray Lymphatic Massage and Bio Cleanse Foot Detox are also available at Vital Health, Inc. For more information please visit Vital Health's website at http://www.vitalhealth.org.