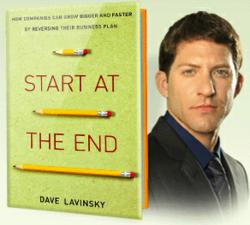 Los Angeles, CA (PRWEB) November 13, 2012
Who
Dave Lavinsky is a serial entrepreneur who has helped over 500,000 small business owners raise over 2.5 billion in growth capital over the past decade with his business planning firm, Growthink. Dave has an MBA from the Anderson School of Management at UCLA and earned his Bachelor's degree from the University of Virginia. He lives in New York with his wife and two children.
What
Dave Lavinsky, President and Co-Founder of Growthink will teach entrepreneurs how to grow companies bigger and faster by reversing their business plans with his workshop entitled "Start At The End." Dave is more than excited to share his knowledge this time of the year with the upcoming release of his book "Start at the End" and the upcoming dates of Global Entrepreneur Week that celebrate one of his biggest passions.
When
Thursday, November 15, 2012 at 3PM-5PM
Where
Marymount Manhattan College, 221 East 71st Street in the Regina Peruggi Room on the 2nd Floor
Why
Make sure to join him as he teaches guests a ton of information to get them and their dream business off the ground faster and cheaper than they could've ever imagined. http://www.startatend.com
Questions? Please contact Ariane Sloan at asloan@arianepr.com or (917) 565-2204 for interviews or more information on the event.