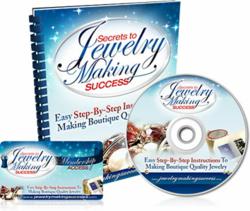 Many individuals have already discovered the secrets to creating unique jewelry
Oceanside CA (PRWEB) November 13, 2012
While some companies keep their success a secret, Jewelry Making Success is not afraid to unleash their secrets to making jewelry. By taking advantage of the ultimate jewelry making instructions that Jewelry Making Success is offering, individuals can make their own, unique jewelry. The jewelry can be given as gifts of sold on the Internet. Some individuals are taking the ultimate jewelry making instructions given by Jewelry Making Success and turning it into profit by creating their own store full of unique jewelry on the Internet.
Many individuals have already discovered the secrets to creating unique jewelry. The site is offering free step-by-step instructions to making boutique quality jewelry. In the instruction guide, individuals will learn what they need to know in order to start making necklaces, bracelets and earrings from scratch.
Inside the video, the viewers will learn numerous things. Some things the viewer will learn include the tools they need for jewelry making, the material they need to get started as soon as possible, the right way to size a piece of jewelry and much more. Individuals will also learn how to take something as simple as an old toilet paper roll and use it to secure a professional looking knot.
The tips that are included in this free video is useful and will come in handy for those who would like to start making their own accessories.
Getting access to the free jewelry making course is simple. All the individual has to do is visit the site and fill out a form asking for their name and email address. Afterwards, all they have to do is check their email and they will find the instructions in their email.
About Jewelry Making Success
http://jewelrymakingsuccess.com is a website that is dedicated to teaching individuals how to make their own unique jewelry. They offer 2 DVDs consisting of various ways to make jewelry. The DVDs are 4.5 hours long.