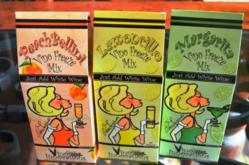 Check out the page for a special offer
Atlanta, GA (PRWEB) November 15, 2012
It's an e-commerce marriage that was years in the making. A Partnership that was made for the internet and social media.Old World Gourmet has joined the amazing catalogs.com lineup of goods and services.
This isn't something just any company can accomplish. Old World Gourmet was picked for this special priviledge by virtue of an amazing product lineup and world famous vinolicious wine mixes. For a party, wedding, holiday, gift, or just a get together. Old World Gourmet has the perfect addition and catalogs.com is helping them spread the word.
In the Gourmet Gift & Food Category, the OWG page has links to all the award winning products as well as a link to request a catalog be sent directly. There is also a special catalogs.com coupon, visit the page to find it!
So check out OWG and the other talented companies offering the very best in gourmet food and just about anything else imaginable.
About Old World Gourmet
Old World Gourmet is a manufacturer of frozen wine and liquor drink mixes and recipes who has been "serving fun for over a decade". OWG has a complete line of mixes and recipes for whatever your adult drink of choice and promotes all natural and made in the USA products. OWG products are found in finer retailers nationwide as well as online at the company website owgshoponline.com or on facebook.com/old world gourmet and twitter @oldworldgourmet