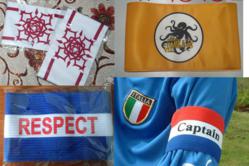 We help customers to promote their businesses.
(PRWEB) November 13, 2012
On Nov.11, 2012, Custom-armbands.com, a leading armband supplier, launched a custom armband promotion to acknowledge new and old customers.. All the customers for custom armbands can get a discount when placing an order, up to 30% off.
"The Christmas is at the corner, and it is a hot time for sales. Now, we offer customer armband as a promotional item with a big discount, up to 30% off. It is a good chance to promote your business at lower cost now." Said, Wendy, CEO of Custom-armbands.com.
Custom armband, like sport armband or captain armband, printed with customer's logo, name, web address, phone number or custom design, has been very popular these years, and widely used by small companies and huge corporations to help promote their brand, products and services.
Blitz, a fast-food restaurant owner in Sydney, has successfully promoted his business with custom armbands by sponsoring a local football team. He said, "The football team has a large number of fans, and the audience can see our logo and know our brand. This has helped us to attract more customers. Last month, our turnover has increased 35%."
Wendy, CEO of Custom-armbands.com, emphasized, "All of our custom armbands look dynamic when paired with any other outfit, and extensively used for sporting events, religious activities, company promotion, charitable fund-raising activities, and so on. We have helped many businesses to obtain success through our custom armbands. Now, we are here to provide one-stop shopping service, including designing your own armbands."
About Custom-armbands.com
Custom-armbands.com is a professional armband manufacturer, and produce all kinds of armbands according to customer requirements. The company has 4,000 square meter modern standard production workshop, equipped with a complete set of machinery. All production processes are completed in the company, and standardized through production guidelines and quality control.