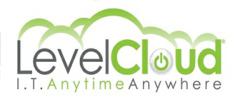 LevelCloud's customers achieve the highest margins while maintaining complete control of their customers, strengthening the resellers "stickiness" and bottom line," said Steve Williams, Vice President of Business Development for Artisan Infrastructure
Corona, CA (PRWEB) November 13, 2012
LevelCloud, a leading channel-only wholesales cloud solutions provider, and Artisan Infrastructure, the wholesale Infrastructure-as-a-Service provider, have partnered to enable managed service providers (MSPs) and value-added resellers (VARs) to white label a turn-key Desktop as a Service (DaaS)offering that is completely browser based.
With origins as a Southern California MSP founded in 2004, LevelCloud understands the challenges associated with growing an MSP business. This understanding and background uniquely positions LevelCloud to help partners in growing their cloud business by minimizing their learning curve and avoiding costly mistakes of building and managing a highly redundant 24/7 infrastructure.
"I spent quite a bit of time evaluating several well-known cloud solution providers and ended up choosing LevelCloud for several reasons," says Wayne Klug, CEO of Spectrum Technology Solutions, a Phoenix based MSP. "From the moment I met LevelCloud at SMB Nation in October 2011, I found myself speaking not to a sales person, but to a team of professionals who I felt were passionate about the value their solution provides to the SMB space and genuinely interested in helping me grow my business. From the very core, LevelCloud's partner program is unlike any other solution providers. While many solution providers are motivated to build a large reseller base, LevelCloud is interested in finding but a handful of MSPs who they can work with very closely to provide the individual attention and support needed to market, sell, implement, and support cloud services for my clients.
Artisan Infrastructure's Cloud Solution Provider Ecosystem is made of up channel centric solution providers who enable VARs through white label solutions for resale. The varying cloud services Crafted On Artisan Infrastructure include but are not limited to Desktop as a Service, VoIP, video conferencing, unified communications, data back up and email.
"When evaluating IaaS partners to build our Channel Only Cloud Solution, we had important criteria to be met. Not only would our IaaS partner need to have a best in class network, a great engineering team and a proven history, they would have to provide us with a vehicle that would help us succeed. To date, we have found no other partner like Artisan Infrastructure. Aside from being a pure play wholesale IaaS provider, they also don't build any solutions for resale. The fact Artisan Infrastructure would never compete with our offering was unexpected, combine that with market development funds, joint marketing/webinar initiatives and zero cost demonstration and trial capacity took our relationship to a whole new level. We realized quickly they were not just a vendor, but a true partner. Artisan Infrastructure gains success by helping us succeed as a channel cloud vendor." said President of Level Cloud, Biren Shukla.
"LevelCloud delivers value-add to our channel partners by providing hosted Desktop as a Service, which alleviates the resellers need to staff specialized engineering heads. By working deeply to understand LevelCloud's unique products we are able to help optimize their cost and scale strategies. This also ensures that LevelCloud's customers achieve the highest margins while maintaining complete control of their customers, strengthening the resellers "stickiness" and bottom line," said Steve Williams, Vice President of Business Development for Artisan Infrastructure.
About LevelCloud
LevelCloud is a turnkey channel-only wholesale cloud solutions provider that has a unique cloud partner and reseller program that allows our partners to deliver a true Desktop as a service (DaaS) to their clients. The entire business network (e-mail, apps, file data) is delivered through a centralized OS33 webtop powered by LevelCloud's highly available and redundant architecture running in state of the art datacenters. LevelCloud enables organizations to free themselves from the traditional constraints of IT, and empower their staff to work anytime, anywhere, on any device through a collaborative platform. The solution is provided solely through a channel of LevelCloud Authorized Partners throughout North America. For more information visit http://www.levelcloud.net or call 855-562-5683. You can also follow LevelCloud on twitter at twitter.com/levelcloud
About Artisan Infrastructure
Artisan Infrastructure is the wholesale Infrastructure-as-a-Service provider. The company delivers custom built infrastructure on demand to a global network of service providers from fully redundant, geographically diverse, SSAE 16 certified data centers. Partners include national and international managed service providers, global systems integrators, software developers, communications providers, PaaS, SaaS and value added resellers. Through Cornerstone, Artisan's virtual Private Data Center (vPDC) platform, partners maintain complete autonomy, control, security, and visibility when building their own private and public cloud solutions. Cornerstone scales from single site, secure multi-tenant environments to highly complex dedicated infrastructure on multiple continents. With Artisan Infrastructure, partners eliminate the capital expense of building and maintaining best-of-breed, infinitely scalable, infrastructure while minimizing operational and engineering overhead. A neutral ecosystem of independent software vendor templates allows immediate turn up, trial and deployment of cloud solutions faster and more affordably. For more information contact the company at 512-600-4300 or http://www.artisaninfrastructure.com. Follow Artisan Infrastructure on Twitter at twitter.com/ArtisanInfrastructure