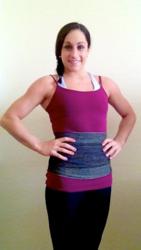 ...the band is a must-have in my gym bag.
Los Angeles, CA (PRWEB) November 13, 2012
Elite Sportz Band, LLC, a new company focused on protecting athlete's backs while also enhancing performance, is proud to partner with 2011 World champion and 2012 Olympic gold medal gymnast Jordyn Wieber. After suffering through her own stress fracture during Olympic competition, Jordyn is excited to join as "Band" Ambassador with a company focused on preventing some of the more than 26,000 injuries per year reported for gymnasts.
The premiere product of Elite SportZ Band is the model Z-10, a state-of the-art athletic compression garment inspired by traditional back warmers. Commonly worn by gymnasts and dancers in Russia and Eastern Europe for decades, back warmers are tubular elastic fabric garments that fit tightly around the lower torso. Training and strength of the core abdominal and back muscles are widely recognized as fundamental to athletic performance and injury prevention. Painstakingly redesigned for today's athletes, the Z-10 provides optimal warming, compression and enhanced activation of the key core abdominal and lower back muscles. The Z-10 provides full lumbar support while maintaining full mobility. The Elite SportZ Band Z-10 provides a new tool for athletes seeking enhanced core performance and injury prevention.
Whether you are a gymnastics fan or not, the Olympic fever this past summer while watching the "Fierce Five" USA women's gymnastics team was contagious. It was Jordyn's exemplary demonstration of "fierce" determination to fight through injury and disappointment that inspired us to reach out to her.
"We are thrilled to welcome Jordyn to our team as "Band" Ambassador. She is the perfect ambassador for Elite SportZ Band" said Kari Keegan-Smith, Founder and President of Elite SportZ Band. "Her winning Olympic gold, while fighting through the pain of a stress fracture, make her a natural advocate for safety and injury prevention. I can only imagine what she may have accomplished if she was healthy in London."
Wieber is a natural fit for Elite SportZ Band and a role model for injury prevention in sports. The journey to the 2012 Olympics required incredible hours of training, balancing the risk of injury with careful conditioning, training, and safety measures.
"Intense training is part of a gymnast's life. I am so glad to see a new product available to athletes that help protect our backs" said Wieber. "My back feels great after working out, so the band is a must-have item in my gym bag. I am excited to partner with Elite SportZ Band to help reduce injuries."
Elite Sportz Band is a California-based company focused on protecting athlete's backs while also enhancing performance with their compression garment inspired by traditional back warmers. We offer bands in sizes appropriate for young children through adult sizes. Our products are sold direct to consumer through our website, http://www.EliteSportzBand.com. We encourage customer feedback through our social networks including Facebook & Twitter. For more information about our company and available products, please visit our site.