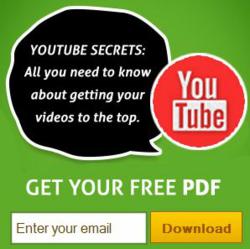 Ottawa, ON (PRWEB) November 19, 2012
Buy Real Marketing, the leading provider of web 2.0 business applications and social media marketing solutions, releases "YouTube Secrets: All you need to know about getting your videos to the top," in a PDF file available on http://www.buyrealmarketing.com/blog/.
YouTube is one video platform online users flock to for entertainment but for Buy Real Marketing clients, it is a platform to become famous and well known in their respective industries. The company has long catered to the needs of YouTube video owners who seek to gain traction on YouTube and eventually the online recognition they require to achieve each of their goals. With the release of this educational free PDF file full of YouTube marketing strategies, Buy Real Marketing clients can complement the credibility the big YouTube views count bring with clever tips and tricks. This will help further launch their status as an authority on YouTube and online.
"This is one of the many planned free PDF releases that Buy Real Marketing has set in motion to supplement clients' need for visibility and online popularity. Strategies such as proper keyword placements, social sharing and link building are among the highlights that clients and subscribers will get when they get hold of this PDF," mentions JP Bisson, Managing Director for Buy Real Marketing.
Buy Real Marketing recently introduced SpringVid.com, a video search engine optimization service on the web that will help increase the rankings of videos on YouTube. Together with the buy YouTube views service and SpringVid, this YouTube Secrets PDF will bring online video owners to a completely new level of knowledge on successful video marketing.
The company offers services that help clients grow their business through social media. Among the services they offer are Twitter followers, YouTube and Vimeo views, Tumblr followers, SoundCloud plays and Pinterest followers. Customer support is available 24/7 and services are offered with a 100% Money Back Guarantee.
To know more about the company's services, visit their website at http://www.buyrealmarketing.com or contact them at 1-877-435-5955.
About
Buy Real Marketing is owned by Clicking Labs. Clicking Labs is a well-established internet marketing company founded in 2010 by Jean-Patrick Bisson, Diana Quartin and Jonathan Kennedy. The company specializes in driving search marketing and social media traffic, social web app development and conversion optimization. Each product or service specifically helps small/medium website owners increase online visibility and improve online sales.
###