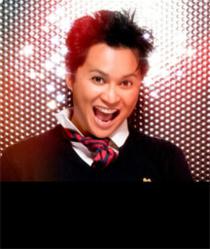 We value the LGBT community and its potential to provide caring, loving homes for children in need.
SANTA ANA, CA (PRWEB) November 13, 2012
Comedian Alec Mapa will headline an entertaining and informational event about parenting for the LGBT community on Monday, December 3, 7:00–9:00 p.m., at the Orange County Center for Contemporary Art in Santa Ana. The event is sponsored by RaiseAChild.US, a nonprofit organization that encourages the LGBT community to build families through fostering and adoption.
Mapa, best known for his roles on ABC's Ugly Betty and Desperate Housewives, will open the event with an excerpt from his stand-up show, Baby Daddy, which chronicles the journey he took with his husband in 2010 to foster and adopt their now seven-year-old son. The event will include a panel discussion featuring LGBT foster and adoptive parents.
The Orange County campaign, which runs in November and December, includes radio PSAs on KPCC and KCRW, as well as public transit advertisements featuring LGBT families created through fostering and adoption. Its slogan is "Let Love Define Family."
On the occasion of National Adoption Awareness Month, RaiseAChild.US is producing the recruitment event in partnership with foster and adoption agency Penny Lane Centers. "We are eager to work with LGBT prospective parents in Orange County," says Program Director Dr. Judith Sandino, LCSW. "We value the LGBT community and its potential to provide caring, loving homes for children in need."
According to the U.S. Department of Health & Human Services' Administration for Children & Families, over 107,000 children in the foster care system are available to be adopted. There are 300,000 additional children in need of immediate foster placement. Certified families are in short supply.
"Our goal is to find safe and loving homes for children who desperately need them," said RaiseAChild.US President Rich Valenza. "A wealth of research and data clearly demonstrates the keen parenting abilities within the LGBT community. We are a part of the solution for our nation's overburdened foster system."
Since the nonprofit organization was founded in 2011, RaiseAChild.US has organized three multi-media campaigns in Los Angeles, engaging over 500 prospective parents. RaiseAChild.US is working closely with the Human Rights Campaign Foundation's "All Children - All Families" (ACAF) initiative, which provides professional training and technical assistance to foster care and adoption agencies that want to welcome and support LGBT foster and adoptive parents. To date, ACAF includes over 60 participating agencies across the country and has awarded 27 seals of recognition, including to Penny Lane Centers.
The Orange County Center for Contemporary Art presents cutting-edge art within a forward-thinking intellectual framework, honoring the legacy of the alternative space movement by continuing the tradition with new generations of artists. OCCCA is located in the Santa Ana Artist Village, which is home to several galleries, artist studios, restaurants, shops, and First Saturday art walks.
The gallery's address is 117 North Sycamore, Santa Ana, CA 92701. Parking is available at 3rd and Sycamore for $1.00 before 8 pm; parking is free thereafter. For more information, visit OCCCA at http://www.occca.org or call (714) 667-1517.
Join the RaiseAChild.US community on Twitter @RaiseAChild and visit RaiseAChild.US on Facebook at https://www.facebook.com/raiseachild.