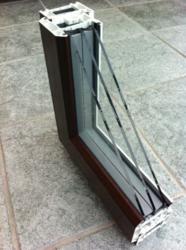 Three panes are better than two
London (PRWEB UK) 14 November 2012
Triple glazing sales continue to grow for Hampshire based KJM Windows & Conservatories. As energy prices continue to rise and the long term outlook is this will remain, homeowners are looking for ways to increase the insulation of their homes, triple glazing is providing a cost effective solution. Sales in these products have doubled in the second quarter of 2012 over the first quarter.
Managing Director Mark Pearce commented "We have continued to roll out more web-pages to target areas across southern England and this has proved very successful. We have targeted towns and cities like Winchester, Salisbury and up the M3/M4 corridors to include Reading and London. Because triple glazing is over five times more thermally efficient than old single glazed windows and three times that of older double glazing, the choice is a relatively easy one for the home owner. 2012 has been a good year for sales despite the tough market conditions, triple glazing was one described as a niche product, but today it is being chosen in about 10% of our window sales."
The Glass and Glazing Federation energy savings calculator shows that standard 'A' rated double glazed windows could save you over £8000 on your energy bill and save the atmosphere from 25 tonnes of carbon dioxide over the next 20 years. Triple glazing is 40% more thermally efficient so the savings would be far higher.