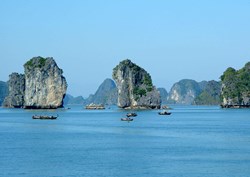 The tour package of Dragon's Pearl Junk in 2 days and 1 night just costs only $95 - $120.
(PRWEB) November 14, 2012
Halong Bay – Vietnam, recognized as one of the New Seven Wonders of Nature, has seen a remarkable increase in the number of international cruise visitors over the past months. As reported by Pattaya Daily News, 30,000 cruise passengers came to Halong Bay in the early months of this year.
To serve the rising need of travelers who would like to visit Halong Bay, Smile Travel Vietnam has launched new programs to attract potential customers. Tours in Halong Bay is optional and available on the website. And the discount ranges from 30 to 50% depending on each package. Especially, cruise visitors will get the priority from Smile Travel Vietnam. Thanks to the unique beauty that the nature granted, Halong Bay is the hot destination all over the country.
Ha Long Bay, meaning "descending dragon", is among the most popular tourist destinations in Vietnam as well as in Asia. Located in Quang Ninh province of Vietnam, it is just nearly 170 km from Ha Noi. Bernard Weber, founder-president of New Seven World, says that the spectacular seascape of Halong Bay is one of the great treasures of our natural world.
Listed as World Natural Heritage on December 17th, 1994 by UNESCO, Ha Long Bay possesses the calm water beaches, strange limestone mountains, islands, and caves which get the names after their special shapes and historical events; for instance, Cock Islands, Wooden Stake Cave, and Pelican Cave.
There are fish farms and floating houses and villages, where tourists can try delicious and fresh sea-foods. Among various interesting spots are the Virgin Cave and the Hung Sung Sot Cave, both situated on the Bo Hon Island. The place is really popular among travelers for the huge stalactites that are hanging from the ceiling. To discover mysterious and natural islands, travelers could go on a boat tour. Also, tourists can go to the Halong Market or try their luck at the Halong Bay Casino. Travelers could enjoy Vietnamese coffee, snack, local fruit, as well as herbal drinks here. Ha Long Bay is a spectacular area surrounded by the blue water of the Gulf of Tonkin. Therefore, it owns the great atmosphere and various options for water sport. The natural scenic features, geomorphology, landform values and cultural heritage remain intact despite the long history of human activities in the area.
Once arriving in Halong Bay, visitors could hire boats to reach the bay for sightseeing. Among them, Dau Go Cave, Poem Mountain, Tuan Chau or Sentinel Chau Island are regarded as the best masterpieces of nature. Visitors could pay their visits to Yen Tu Pagoda, Cua Ong Temple – two of the most famous religious sites in Vietnam. Furthermore, adventurous tourists could take a boat to Co To Island for authentic settings, beautiful coral reefs, and scuba experiencing.
Halong Bay, with its own magic beauty, becomes millions of tourists' passion. Smile Travel Vietnam always ensures to bring tourists a great vacation. Furthermore, they can get a great deal when Booking Soon through its official website. The discount is from 30-50 %, even flexible for particular cases. The tour in Dragon's Pearl Junk just costs only $95 - $120. Many other options are available on the website. Tourists can get access to the site to get more details about time, cost, and further information for each package.