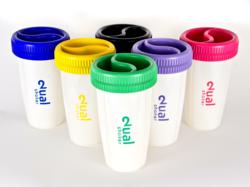 The technology allows you to mix fresh drinks anytime, anywhere.
San Francisco, CA (PRWEB) November 15, 2012
Dual Shaker™ is the very first fitness bottle shaker that developed a technology aimed at improving and saving lives. The technology allows anyone to mix fresh drinks anytime, anywhere. The same technology will be used to save lives in 3rd world countries.
The inset of the Dual Shaker™ consists of two chambers where the ingredients of the drink to be mixed can be stored. When ready to mix a drink, let's say right after a workout, simply twist the lid up to half level, shake the bottle and it's done!
Dual Shaker™ comes in six colors. In addition, it has three of the most important benefits a person can get in a bottle shaker: freshly made drinks, preserved power of drink ingredients, and leakage prevention.
The Dual Shaker™ bottle can be used in so many different ways. Make fitness shakes, such as protein shakes, BCAA, amino, creatine, and so on. Mix a booster shake and diet shake the freshest way possible. Even baby milk formula and coffee mixes can be made using this convenient bottle shaker. But it is not limited to mixing drinks because it can also be used to mix food preparations such as cereals, pancake batter, French toast mix, salad dressings and many more.
Dual Shaker™ will be launched at Kickstarter.com on 12.12.12 (December 12, 2012) and will have an EARLY BIRD SPECIAL for the Kickstarter community where the Dual Shaker™ fitness bottle will be offered for only $10. The retail price for the Dual Shaker™ bottle is $15. Follow the product release at Facebook https://www.facebook.com/DualShaker or Twitter https://twitter.com/dualshaker.
But Dual Shaker™ goes beyond improving lives. The technology also saves lives!
"During our research in the medical field, we realized that our technology can save lives by ensuring the correct mixture of drugs for infants and children. The Democratic Republic of Congo has the highest mortality rate of infants in the world with a rate of 126 deaths for every 1,000 live births. As a team of social entrepreneurs, we are truly concerned about this statistical fact so we created the organization Esymix Nonprofit, Inc. (http://www.esymix.org). Imagine bottle shakers, just smaller in size and packaged for single use, which can be used for mixing medicines, such as antibiotics," said Adam Azani, CEO and Founder of Dual Shaker™ and Esymix Nonprofit, Inc.
The goal of the Esymix Nonprofit organization is to offer the same technology used in Dual Shaker™ to save human lives, for free.