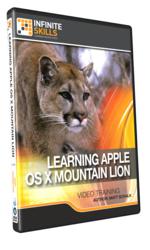 An easy way to learn how to use the new Mac OS X operating system
(PRWEB) November 15, 2012
Software training firm InfiniteSkills last week released its Learning Apple OSX Mountain Lion Tutorial, a computer-based training course designed for new and experienced users of the basic operating system found on portable and desktop Apple computers.
Released in July, Mountain Lion advances a trend in which OS X integrates features from iOS, Apple's mobile operating system found on iPhones and iPads, with the OS for standard computers. In Mountain Lion, these include Notes and Reminders, as well as changes in Mail and iCal, which now offer improved synchronization features.
InfiniteSkills Learning Apple OSX Mountain Lion Training Video offers an easy-to-understand, hands-on guide to mastering these new features and other essential elements in OS X Mountain Lion.
Learning Apple OS X Mountain Lion Video Training Course on
Course author Matt Schalk, a certified Apple technology integration consultant with 14 Apple certifications to his credit, covers all the key elements and many hidden tricks helpful for both experienced and new users. In addition to assisting companies and organizations develop technical infrastructure and skills, Schalk also has experience training, working one-on-one with end users as an Apple "creative."
Schalk begins with the basics, explaining how to safely install Mountain Lion on your computer and covering the basic setup procedure. Then he explores the Finder, Apple's core tool for navigating the file structure of OS X, covering important features like the dock and the menu bar, the home folder, smart folders, and working with burnable media.
In addition to covering the refreshes to core programs like iMovie, iPhoto, and Garageband, Learning Apple OS X Mountain Lion Video Training - DVD covers the details of all things new to Mountain Lion. including features geared toward integrating personal organization on your computer with your mobile device. Schalk explains how to use Notifications, the consolidated Messenger app, and improvements to Apple's Mail app, to help you stay organized on the go.
Schalk also explores how to use the new Mountain Lion share feature, located in key apps like Safari, to sync with iCloud as well as your Facebook and Twitter accounts.
"Finally all of our documents and all of our devices can be in sync," Schalk says. "We can use iCloud to synchronize our calendar, iWork, Mail, Notifications and more."
"Learning Apple OS X Mountain Lion Video Training is a fast and easy way to get the most out of your use of Mountain Lion," Shalk adds.
http://www.infiniteskills.com/training/learning-apple-os-x-mountain-lion.html
InfiniteSkills offers its Learning Apple OS X Mountain Lion Tutorial either as a DVD or a direct download from the company website at a retail price of $49.95. Though the programs covered may be specific to certain operating systems, all InfiniteSkills titles and formats are compatible with both Mac and Windows operating systems. Shipping is available around the globe. Additionally, InfiniteSkills tutorials are supported by project files which correspond to examples in the videos, allowing users to work alongside their instructors right on their computer or iPad.
About InfiniteSkills Inc.
A leader in the field of software training, InfiniteSkills strives to offer the highest quality training available at an affordable cost. InfiniteSkills tutorials are task-oriented instructional videos, teaching complex skills by providing hands-on examples and guiding users as they carry out critical objectives. InfiniteSkills offers a comprehensive range of software titles available as DVDs, digital downloads, as well as iPad editions—keeping with company aim of delivering professional training to customers anywhere they want to learn.