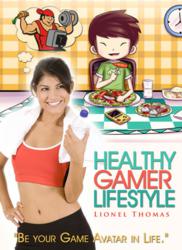 "Be your Game Avatar in Life."
Brisbane, Queensland (PRWEB) November 14, 2012
After establishing a career in the gaming industry, Lionel Thomas found his health suffering as a result of a sedentary lifestyle and high calorie consumption. A weight-related injury forced him to take his health by charge, and saw him losing a tremendous amount of weight over the space of months. After helping thousands of fellow gamers take charge of their health via his site Vitality for Gamers, Lionel has written a book that will cover everything (Healthy Gamer Lifestyle: Be your Game Avatar in Life); from food and fitness, to breathing and relaxation.
Over the last 12 years, Lionel Thomas has been able to achieve what is every gamer's dream: a flourishing career in the gaming industry. After starting out as a programmer, he was able to become a producer creating Xbox and PC titles, all while spending 60 additional hours a week gaming. Lionel's lifestyle soon led to massive weight gain, and it was not long before he began suffering the inevitable side effects. He soon found himself feeling tired, and suffered from back problems. Despite this, he openly admits that if "he could have been hooked up to a computer and played games 24/7..." he would. It wasn't until he sustained a muscle injury and met his sweetheart that he decided enough was enough, and began working towards losing weight and enhancing his way of life.
With somewhat basic efforts, Lionel found that he was able to lose 11 pounds in the space of a month. This astounding weight loss motivated him to continue with his efforts, and after eight months he lost 44lbs. Not only did this have an amazing effect on Lionel's appearance, it also helped him feel more energized, allowing him to enjoy his favourite past time more: gaming.
Lionel has since established a website that features tips for gamers who want to keep gaming, but do not want to sacrifice their health. After finding success with his site, Lionel was able to write a book in order to make finding better health easier for gamers around the world. The book, "Vitality for Gamers", features everything any game player needs to know in order to ensure they lose weight, get healthy, and stay that way. The dietary section does not just feature basic nutritional tips, it focuses on meals and snacks that are central to gamer health. Such tips are ideal for those who play a little, or a lot, and can be used to sustain all night gaming sessions.
Second to any health plan comes exercise. As any gamer will know, making the move from a sedentary lifestyle to one that is more energetic can be challenging to say the least. By making the most of Lionel's tips, fitness becomes easier, and can be tailored to your gaming timetable. For further vitality, relaxation and breathing techniques are examined and highlighted; by doing this, Lionel helps gamers to battle well-known gaming side-effects, like gamer rage.
About Lionel Thomas and Vitality for Gamers:
Lionel Thomas is a seasoned gamer who has flourished throughout his career and enjoys gaming for fun as much as he enjoys it for work. His book presents the "Vitality Challenge", a must-do for any game lover who is serious about changing their health.