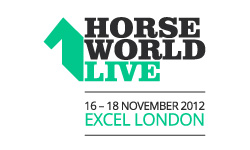 London (PRWEB UK) 14 November 2012
There will be extra pressure added to the first rider of the Express Eventing Series 2012-13 as they ride down the centre line at HorseWorldLive on Saturday 17th November! One of the dressage judges will be looking for ultimate poise, posture and perfection. Professional dancer and winner of the fourth series of BBC's Strictly Come Dancing, Karen Hardy, will be the artistic judge in the thrilling 'one seat sees all' version of the equestrian sport.
One of the differentiators between this compact, thrill a minute version of equestrian eventing is the freestyle dressage to music. This means that although the competing athletes have a list of compulsory and optional dressage movements, the latter attracting additional marks, they can ride them in their preferred sequence and to the music of their choice. This has resulted in everything from Robbie Williams, The Rocky Horror Show, Grease and Lady Gaga!
''When we were looking to appoint a judge to assess the competition pairings for their choice of music, artistic impression and interpretation, we could really see the parallels between dance and dressage." commented Jill Gratton-Fisher, of Express Eventing. "Dressage is often referred to as 'horse ballet' so who better to judge these aspects than someone from the pinnacle of the world of dance."
Karen Hardy looks to her pupils to address technical aspects of their dance programmes in order to enhance their performance and insists on a high proportion of training. These are just two of many similarities between the disciplines needed for good dressage.
Speaking today, Karen said, "When I was approached to be a judge for Express Eventing and the concept was explained. I could see immediately the parallels to so many aspects of how we prepare and deliver world class content for dance routines. I will be looking at the rider's choice of music and how it suits the gait and conformation of the horse, the flair and imagination that has gone into putting the floorplan together and the overall picture horse and rider create."
Karen has won numerous titles including the World Masters, British National Championship, Open Italian Championship, Yankie Classic and Osaka World Trophy and has just opened a new dance school in Chelsea.
HorseWorldLive is London's most hotly anticipated horse show, with masterclasses demonstrations and competitions from top riders including William Fox Pitt, Emile Faurie, William and Pippa Funnell Linda Parelli, Laura Bechtolsheimer, Natasha Baker,Sharon Hunt, Geoff Billington and Geoff Luckett. Plus, a vast Retail Village with wall-to-wall shopping for unrivalled equestrian shopping experience!
Tickets are on sale, with advance prices still available from http://www.horseworldlive.com book now to avoid disappointment and to take advantage of special ticket packages and group discounts.
Creative marketing company, Graphic Evidence, has planned and executed a wide-ranging PR campaign for HorseWorldLive, which utilises all media channels. The creative marketing company's graphic designers were also responsible for their effective advert design that has gained the show some excellent exposure, increased recognition and boosted ticket sales.
To find out more about Graphic Evidence's extensive design, PR, marketing and web design company services or to view their portfolio, please visit http://www.graphicevidence.com