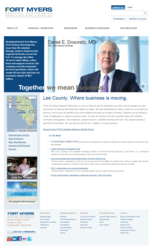 Our website serves as the foundation of our interactive communications strategy, providing a wealth of information and resources for our business community, site selectors, industry leaders, and media
Fort Myers, Florida (PRWEB) November 13, 2012
The Fort Myers Regional Partnership won two marketing awards at the Communication Awards Ceremony during the 2012 Southern Economic Development Council (SEDC) Annual Conference, recently held in Myrtle Beach, South Carolina.
"These annual Communication Awards recognize and showcase the leading marketing work done by economic development professionals throughout the south. The Fort Myers Regional Partnership was one of the organizations that hit the mark this year with its campaign. Their campaigns not only showed creativity, but also solid messaging and effectiveness at reaching its target audience. We were wowed by all the entries we received this year and impressed with the high level of marketing work being done in economic development by SEDC members," said SEDC President Gene Stinson.
Fort Myers Regional Partnership received the Award of Superior for the website, http://www.FortMyersRegionalPartnership.com, in the category of Websites: Local, State or Regional Economic Development Organizations. The Partnership was additionally honored with an Award of Merit for the website as well in the category Websites: Other.
The website features a clean, easy-to-navigate design, myriad share tools, downloadable studies and resources, dynamic maps, and video testimonials.
Additionally, an interactive Property Locator feature allows easy search by site and buildings type, communities, and businesses within Lee County.
Key business leaders representing target industries such as life sciences, manufacturing, information technology, and corporate headquarters who have located to or expanded in Lee County graciously devoted their time to share their "We Chose Lee" video blog to entice new companies to move to Lee County and to help existing businesses continue to prosper.
"Our website serves as the foundation of our interactive communications strategy, providing a wealth of information and resources for our business community, site selectors, industry leaders, and media," said Jennifer Berg, marketing and communications director of the Fort Myers Regional Partnership.
"We embrace technology and acknowledge the importance of online presence and authentic social media as part of our overall marketing strategy," continued Jim Moore. "It is the integration of high-tech and high-touch within our business community that brings companies to Lee County."
The Communication Awards are given each year by SEDC at its Annual Conference. More than 20 categories of marketing work submitted by SEDC members are evaluated within four division size levels. The awards are: Best of Show, Best of Class, Superior, Excellent, Merit, and Special Judges' Awards. Judging criteria for General Entry Awards include Graphic Appeal, Clarity of Message, Quality of Information, Positioning / Differentiation and Format. All winners were on full display for attendees to view during the conference.
Judges for the Communication Awards competition are economic development consultants, practitioners and design professionals from across the southern U.S. that work with clients in developing strategies for growth in their communities. SEDC chose these judges because of their knowledge of economic development, site location and de¬sign. They understand the needs businesses have in choosing a site and how communities and economic development organizations can reach prospective clients through their marketing efforts.
The 2012 SEDC Annual Conference is currently in its 65th year and is SEDC's main educational event of the year. Over 400 economic development professionals spent three days networking and learning recent economic development trends and strategies from corporate, government and executive professionals.
About SEDC
The Southern Economic Development Council is an 870 member professional association composed of a broad cross-section of active and influential economic developers from business and industry, utilities, transportation, financial and education institutions, chambers of commerce, and local, regional and state development agencies. Members in the 17-state area share a common interest: the promotion and enhancement of the economic development profession. The SEDC region includes the following states: Alabama, Arkansas, Florida, Georgia, Kansas, Kentucky, Louisiana, Maryland and the District of Columbia, Mississippi, Missouri, North Carolina, Oklahoma, South Carolina, Tennessee, Texas, Virginia and West Virginia. For more information about SEDC please visit our Web site at http://www.sedc.org.
About Fort Myers Regional Partnership
The Fort Myers Regional Partnership works to attract new and diversified businesses resulting in high-wage, high-skilled jobs; retains and encourages the expansion of existing businesses and improves the overall business environment. Lee County is a thriving business community with a highly regarded airport, significant corporate development and ample real estate opportunities. The area is attracting, retaining and growing high-value businesses with a unique blend of an outstanding business climate and superior quality of life.
The county is home to five vibrant cities--Fort Myers, Bonita Springs, Cape Coral, Fort Myers Beach, and Sanibel--and is the heart of Southwest Florida.
The Partnership continues to promote and build the region through ongoing efforts from its proactive team of domestic and international recruiters, research staff and community liaisons, as well as through its partnerships with the Horizon Foundation, the Horizon Council and the Lee County Industrial Development Authority.
Since 1996, more than 5,000 new jobs and more than $1 billion in economic impact have been committed to as a direct result of key local incentive programs; Lee County Job Opportunity Program and the First Incentives for Recruiting Strategic Targets as well as State of Florida incentives and the State Closing Fund.
Fort Myers Regional Partnership can also be found social networking sites including Linked-In, Facebook, Twitter and YouTube.
Tune in for Together4Business, a weekly television program that explores economic development in the Southwest Florida region through a series of interactive discussions with area executives and experts, highlighting key factors of the overall business environment with a highly regarded airport, significant corporate development, and ample real estate opportunities. Watch the show videos and link to more information and resources from each guest expert.
# # #
Editor's Notes: Unique story angles, resources and trend data are available in the online Media Center. For executive interviews, success stories, and additional media relations services, please contact Jennifer Berg, Fort Myers Regional Partnership, via phone at 239.338.3161 or email at JBerg(at)leegov(dot)com.