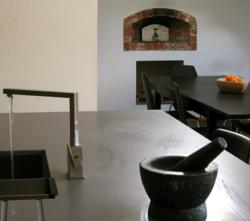 Foodie fanatics are now looking for the very latest trend in home and kitchen décor, wood fired ovens are moving into the domestic kitchen
(PRWEB) November 20, 2012
Often thought of as a method of outdoor cooking, wood fired ovens, also known as pizza ovens, have been rising in popularity over the last few years. The Stone Bake Oven Company, who manufacture and sell a range of wood burning ovens in the UK, have noticed a growing interest in wood fired ovens for inside the home.
Known for beating BBQ's in cooking versatility and aesthetic appeal outdoors, wood burning ovens are now competing with the likes of conventional gas and electric ovens in the home. Able to cook just about anything, stone bake ovens are thought to cook faster and tastier meals due to their wide temperature range and dry heat.
Tom Gozney, the company founder is not surprised by the shift in cooking trends, saying "many of our clientele don't use their conventional ovens during the summer months and instead to prefer to cook using their own wood burning ovens." Not just an outdoor or summer indulgence, wood fired cooking is fast becoming an all year round trend, with Christmas dinners and New Years meals being cooked across the nation this festive season.
With unreliable weather and low temperatures settling in for the winter, foodie fanatics are now looking for the very latest trend in home and kitchen décor, wood fired ovens are moving into the domestic kitchen. Commercial stone ovens can already be found indoors in pizzeria's and restaurants, now residential wood fired ovens are sneaking into home improvement and kitchen designs as an affordable, original and environmentally friendly alternative to home cooking.
Known for their pizza making abilities, wood burning ovens can roast dinners, bake cakes and breads, cook pizza and more. So to expand cooking frontiers and diversify kitchen décor, wood fired ovens are literally the hottest kitchen trend heading into 2013. For a range of indoor and outdoor pizza ovens visit http://www.thestonebakeovencompany.co.uk for more information.