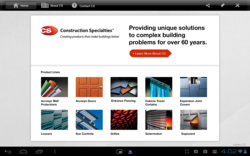 Muncy, PA (PRWEB) November 14, 2012
Construction Specialties Inc. (C/S), leading manufacturer of high-performing architectural specialty building products, introduced an Android® tablet version of its mobile application that can be downloaded from the Google play store. The release of this new version follows the May 2012 introduction of C/S' app for the iPad® platform.
This convenient mobile app provides easy access to resources for all C/S product lines, which include Acrovyn® 4000 wall protection; Acrovyn® Door System; Pedisystems® Entrance Flooring; Floorometry® modular flooring system; cubicle curtains and track; expansion joint covers; architectural louvers and grilles; sun control systems; Solarmotion® controllable sunshades and Explovent® specialty venting.
The app enables fast access to C/S' most popular support collateral, with each product line having its own overview and multi-media section that includes project photos and videos. Interactive product brochures feature embedded media content, such as videos and information about how C/S products can contribute to LEED® points. Also included are quick links to other technical resources, like installation instructions, found on the company's website as well as a link for finding a customer's local representative.
"This expansion to the Android® tablet platform makes this tool available to an even wider audience," says Curt Fessler, Marketing and Product Innovation Manager. "With this release, now anyone can access our product information, project photos and installation videos as well as other digital material."
To learn more about C/S, please visit the company's website.
About Construction Specialties
Construction Specialties manufactures and sells specialty architectural products internationally, with over 30 offices and manufacturing facilities worldwide. Its products include interior wall and door protection, entrance flooring, expansion joint covers, louvers, grilles, sun controls, explosion vents, smoke vents, and cubicle track/curtains. The company serves architects and designers, building owners, facility managers and contractors. Construction Specialties, Inc. was founded in 1948 and is headquartered in Lebanon, New Jersey.