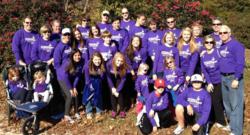 Over 40 walkers joined the Southpoint Solutions walk team.
(PRWEB) November 14, 2012
Southpoint Solutions joined nearly 8,000 people who turned out Saturday morning for the annual Walk to Cure Diabetes.
Teams of families, schools and corporations combined to raise more than $1 million for the Juvenile Diabetes Research Foundation, an organization that raises money to find a cure for Type 1 diabetes.
Jeff Hickman, president of Southpoint Solutions, said "Giving back to the communities where our employees work and live, and to charities, is an important part of Southpoint Solutions' company culture. Our company has two employees whose families are impacted by Juvenile Diabetes so supporting this event was important to all of our employees."
Southpoint Solutions, LLC. is an energy services company that designs and deploys energy management systems – consisting primarily of high-performance, energy-efficient lighting platforms, intelligent wireless control systems and direct renewable solar technology for commercial and industrial customers. For more information, visit http://www.SouthpointSolutions.com.