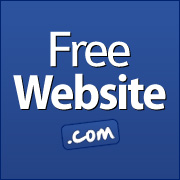 New York, NY (PRWEB) November 14, 2012
FreeWebsite.com released an article today that will change the way that people look at its free website service. The company announced that it provides each customer with a unique web development website template for every free website that it creates.
"After we are done putting together your custom web development website template, we load it up with your pertinent information" said a FreeWebsite.com representative. "We create SEO content that reaches today's audiences and will get your website seen on all of the major search engines including Yahoo, Google and Bing."
FreeWebsite.com has a staff of professional web developers waiting to create a free custom website for each company or individual that wants one. The professional looking website also comes with a web development website template that can be used to update or change any of the content on the site. Each template is created as a unique foundation for the free website.
FreeWebsite.com puts each custom web development website template it creates on a web host that offers 99.9 percent uptime. The company also uses the most advanced Internet security measures to protect each free custom website it develops.
About FreeWebsite.com: FreeWebsite.com breaks down barriers to website ownership by providing attractive, easy to maintain websites, complete with content, at a low price. To learn more, visit FreeWebsite.com.