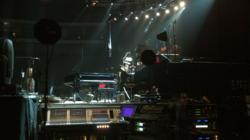 We have successfully moved the entire company to the Fort Myers area and enjoy our new 14,000 square feet facility, more than doubling our space as the first step to planned expansion of an in-house plating facility in 2013
Fort Myers, Florida (PRWEB) November 13, 2012
The Fort Myers Regional Partnership, Lee County's Economic Development Office, welcomes Entertainment Metals to the area with the location of its corporate headquarters in Fort Myers.
With more than 20 years of experience, Entertainment Metals operates a high-tech production facility that is flexible and quickly adaptable to meet specific customer needs. Manufacturing capabilities span a broad range of industries including, but not limited to; audio, video, broadcast, touring, theatrical, systems rental, and install.
"By focusing on the entertainment market, we are able to use our extensive knowledge base of the industry to build innovative solutions that meet the challenges encountered every day in high-end AV markets," noted Entertainment Metals CEO Kevin Kirchner.
The 12-person company led by business partners Kevin Kirchner and Ryan Bringardner began as a small, highly-custom sheet metal manufacturer to support local music stores to large scale concert sound systems. Every year since 2009, the company has doubled in sales volume and quickly outgrew their original facility in Gainesville, Florida.
Originally from Naples, Kirchner was eager to return home to Southwest Florida.
Following a two year-long due diligence exploration process to locate the company to another area, Kirchner and Bringardner narrowed the search to Lee County in terms of qualified workforce, commercial real estate offerings, and the overall business and lifestyle environment.
"We have successfully moved the entire company to the Fort Myers area and enjoy our new 14,000 square feet facility, more than doubling our space as the first step to planned expansion of an in-house plating facility in 2013," commented Kirchner.
In just a few short months, Entertainment Metals has connected with several local, like-minded companies and resources to collaborate on a variety of business opportunities with major cruise lines, top Broadway theaters and large-scale concert venues.
"Lee County is a research and development and custom manufacturing friendly market, well position for growth for emerging companies such as Entertainment Metals," continued Kirchner.
Entertainment Metals will host an open house in early 2013; join the eMail list for more information.
Financial incentives totaling $30,000 were approved for Entertainment Metals to support the location of its corporate headquarters in Fort Myers, Florida. The office is located at 13351 Saddle Rd #205 Fort Myers, FL 33913 near the Regional Southwest International Airport.
This four-year project will result in the creation of 10 or more new jobs with an average salary of $46,695, representing 132 percent of the Lee County average wage, and a total project economic impact for Lee County of an estimated at $1,069,448.
"Our mission for economic development in Lee County is to recruit, retain, and grow high-skill high-wage jobs within diversified industries to improve the quality of life for our citizens and to ensure our economic future. Key growth areas including manufacturing are vital to this mission," commented Jennifer Berg, marketing and communications director of the Fort Myers Regional Partnership.
Lee County: Manufacturing by the Numbers
Companies 491
Avg. Employees 4,189
Avg. Workers 8.52
Avg. Annual Wage $37,900
Total Payroll $161,870,345
Source: Florida Agency for Workforce Innovation, Quarterly Census of Employment and Wages, 4 Digit NAICS Code, 2009 Annual Data
About Fort Myers Regional Partnership
The Fort Myers Regional Partnership works to attract new and diversified businesses resulting in high-wage, high-skilled jobs; retains and encourages the expansion of existing businesses and improves the overall business environment. Lee County is a thriving business community with a highly regarded airport, significant corporate development and ample real estate opportunities.
The area is attracting, retaining and growing high-value businesses with a unique blend of an outstanding business climate and superior quality of life. The county is home to five vibrant cities--Fort Myers, Bonita Springs, Cape Coral, Fort Myers Beach, and Sanibel--and is the heart of Southwest Florida.
The Partnership continues to promote and build the region through ongoing efforts from its proactive team of domestic and international recruiters, research staff and community liaisons, as well as through its partnerships with the Horizon Foundation, the Horizon Council and the Lee County Industrial Development Authority.
Since 1996, more than 5,000 new jobs and more than $1 billion in economic impact have been committed to as a direct result of key local incentive programs; Lee County Job Opportunity Program and the First Incentives for Recruiting Strategic Targets as well as State of Florida incentives and the State Closing Fund.
In addition to the website, Fort Myers Regional Partnership can also be found social networking sites including Linked-In, Facebook, Twitter and YouTube.
Tune in for Together4Business, a weekly television program that explores economic development in the Southwest Florida region through a series of interactive discussions with area executives and experts, highlighting key factors of the overall business environment with a highly regarded airport, significant corporate development, and ample real estate opportunities. Watch the show videos and link to more information and resources from each guest expert.
# # #
Editor's Notes: Unique story angles, resources and trend data are available in the online Media Center. For executive interviews, success stories, and additional media relations services, please contact Jennifer Berg, Fort Myers Regional Partnership, via phone at 239.338.3161.