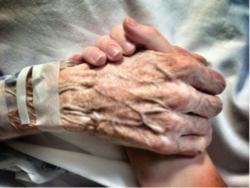 Bethlehem, PA (PRWEB) November 13, 2012
Kate Carter, one of SFA's own, received the top honor in a self-portrait contest on Instagram, a photo-sharing social media network. Her winning image, "Hope", is a poignant and personal self-portrait depicting Carter, hand-in-hand with her ailing grandmother.
The competition, "Express Yourself," challenged Instagram users to submit creative, out-of-the-box self-portraits. The competition, which received 450 entries from around the world, was sponsored by Instagram Lovers Anonymous (IGLA) and KPCC, a public radio station operated by Southern California Public Radio (SCPR). The sponsors selected eight finalists, and Instagram users had 48 hours to vote for their favorites.
As part of the top prize, Carter was interviewed by Grant Slater, photo and video editor for 89.3 KPCC radio station. In the interview, which aired Saturday, October 20th at 12:00 p.m. PST (3:00 p.m. EST), Carter discussed her winning self-portrait, as well as her efforts to integrate and leverage the use of mobile technology into the practice of architecture at Spillman Farmer Architects. Carter's interview recording is posted at the following link, along with a small portfolio representative of her Instagram photography feed: "Our first Instagram contest winner captures a lasting moment at the end of life."
About SCPR Radio:
Southern California Public Radio (SCPR) is a member-supported public media network that operates 89.3 KPCC-FM in Los Angeles and Orange County, 89.1 KUOR-FM in the Inland Empire and 90.3 KVLA in the Coachella Valley. SCPR also informs and interacts with their communities through our web site, mobile and social media channels and live events. Grant Slater is the photo and video editor for KPCC, where he oversees the photo and video elements of KPCC.org's news coverage.
About Spillman Farmer Architects:
Spillman Farmer Architects (SFA) is an interdisciplinary practice of design professionals focused on delivering innovative building solutions based on human-centered design. Since 1927, SFA has worked closely with people and communities to deliver high-quality, effective and inspiring places to live, work, play and learn. SFA serves a diverse clientele including corporate, commercial, public and institutional markets across the United States. SFA's collaborative team works in a LEED Gold certified open studio on the brownfield site that once housed Bethlehem Steel.
CONTACT
Christie Jephson
Spillman Farmer Architects
Tel 610.865.2621
Fax 610.865.3236
http://www.spillmanfarmer.com
-###-