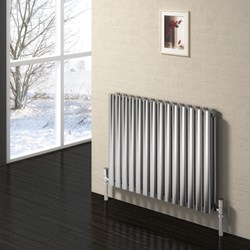 ...new heated towel rails on offer at Bella Bathrooms helping consumers add both heat and designer luxury to any bathroom suite.
(PRWEB UK) 14 November 2012
There are various products people can purchase in order to improve and deal with the cold winter scheduled, but the most important area of all lies within the bathroom. With various items made of certain materials, cold temperatures are more common and often the bathing experience can be ruined. This issue can be dealt with by purchasing one of the new heated towel rails on offer at Bella Bathrooms helping consumers add both heat and designer luxury to any bathroom suite.
New Towel Rails available allow home owners to select a specific item in order to match certain décor of the home or bathroom. The company therefore stock a wide of towel rail types to allow the widest range of choice including highly popular white and chrome towel rails featuring a classic design suitable for any bathroom. The chrome and white designs provides great opportunities for those wanting to co ordinate certain aspects of the room to create a well designed room overall. White Towel Rails are essential for those wanting to create a more traditional and sophisticated design whilst the chrome design offers a contemporary and modern sense of style.
For those wanting to add additional style to a bathroom suite, Designer Radiators are for sale to ensure the highest quality of luxury is added to any room. Designer radiators are supplied by some of the finest manufacturers in the UK such as Hudson Reed and Reina helping to provide only the finest quality possible. All towel rails sold from Bella Bathrooms feature a company guarantee to ensure the product survives the test of time and all usage is gained.
Electric Towel Rails are an alternative option for those wanting to gain the heat and benefit without needing to link it up to a heat supply. Electrical units are great for price and feature all of the advantageous factors when it comes to dealing with cold weather. All towel rails are supplied in a variety of styles, sizes and colours to fully compliment any bathroom suite. If a basic towel rail is all that's required, Bella Bathrooms also supply non heated towel rails in order to provide a useful area for the storage of towels. Although no heat is provided, the additional storage option and ability to hang on walls creates a wider scope of space for other key elements in a bathroom suite.
About Bella Bathrooms:
Bella Bathrooms is one of the finest UK online bathroom retailers based in the North-East of England and offer continuous great deals of bathroom refurbishments, shower, towel rail and radiator updates, stylish bathroom furniture and various other key elements at prices that are guaranteed to be unsurpassable. The latest updates continuously made have further improved the overall quality and they have set a high standard for things to come in the future. The company also own a number of other e-commerce sites with their latest addition being ibathroomsuites offering most bathroom suites with a next day delivery service.
Bella Bathrooms
Tel: 0844 8117 017
Available to contact from 9am – 5pm