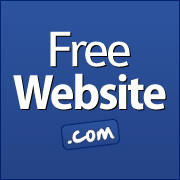 New York, NY (PRWEB) November 14, 2012
FreeWebsite.com released an article today that offers a variety of reasons as to why it is the best free website builder on the Internet. The company offers free website that are created by professional web design experts to anyone that wants one.
"The thing that makes our service the best free website builder around is that each one of our websites is custom built," said a FreeWebsite.com spokesperson. "We do not throw your information and images into a boring template and then post it on the Internet. We get you in touch with one of our professional web designers who will build your site from the ground up and make it look just the way that you want it to look."
FreeWebsite.com establishes itself as the best free website builder by listing its myriad of free services including unlimited email, the ability to edit your free website and populating the website with SEO content. The article states that the company's marketing experts will work with FreeWebsite.com site owners to get the maximum exposure possible.
FreeWebsite.com cements its position as the best free website builder on the Internet by putting every one of its free websites on a host that guarantees 99.9 percent uptime.
About FreeWebsite.com: FreeWebsite.com breaks down barriers to website ownership by providing attractive, easy to maintain websites, complete with content, at a low price. To learn more, visit Freewebsite.com