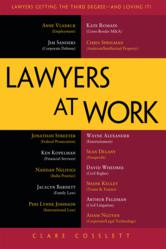 "Lawyers at Work is a wonderful compilation of the eclectic and varied careers available to someone with a law degree. It's a real look at what attorneys do every day…"
— Helen G.Berrigan, United States District Judge, Eastern District of Louisiana
New York, NY (PRWEB) November 13, 2012
Latest release from Apress, "Lawyers At Work" by Clare Cosslett reveals what it means and what it takes to be a satisfied, sane, and successful lawyer in today's tough legal marketplace. Through incisive, in-depth interviews, a top legal headhunter gives the 3rd degree to 15 successful lawyers who run the gamut of the legal profession.
The practice of law is not monolithic. Professional directories for the United States sort one million lawyers and 50,000 law firms into approximately 65 core practice areas. In "Lawyers At Work," Clare Cosslett, principal and founder of Cosslett and Company, a legal search and placement firm, interviews these lawyers in fifteen practice areas selected to be representative of the lawyering spectrum: employment law, corporate defense, criminal prosecution, financial services, international project finance, family law, international law, cross-border mergers and acquisitions, antitrust, intellectual property, entertainment, nonprofit, civil rights, trusts and estates, and civil litigation. The interviews aim to probe deep into the strategies and practices applied and risks taken in selecting paths that were often neither straight nor continuous.
"Lawyers At Work" provides an overview of "legal" as a profession and offers valuable advice in the face of a weak and highly competitive market for lawyers. Cosslett contends it's imperative for prospective lawyers to chart a realistic career plan and learn from the masterminds who have taken their practice onto an international stage, acquired their legal expertise in practice and then applied it to academia, authorship, and entrepreneurship. The possibilities are endless if you know what you want and willing to get there.
Clare Cosslett is the principal and founder of Cosslett & Company, a New York legal search and placement firm. As a former practicing attorney and a legal recruiter with more than twenty years of experience, Clare has met and interviewed hundreds of lawyers. She works with top firms and a wide variety of in-house clients, placing lawyers at all seniority levels nationally and internationally. Before opening her own business in 2002, Clare was a senior recruiter with Lucas Group and a vice president and senior recruiter with its New York predecessor, London and Company. Clare practiced law as a corporate attorney in the New York offices of Skadden, Arps, Slate, Meagher & Flom LLP and Moses & Singer. She has a JD cum laude from Brooklyn Law School and a BA from Columbia University.
CLARE COSSLETT IS AVAILABLE FOR INTERVIEWS.
To arrange for a review copy of LAWYERS AT WORK or to schedule an interview with CLARE COSSLETT, please contact:
Sadhika Salariya, PR Manager | (212) 620-8061 | sadhikasalariya(at)apress(dot)com
LAWYERS AT WORK
by Clare Cosslett will be published by Apress on November 7, 2012
Print Price: $24.99, eBook Price: $17.99 | 350 pages | ISBN: 978-1-4302-4503-2