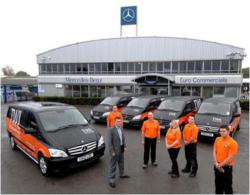 (PRWEB UK) 13 November 2012
Telephone systems supplier TWL Voice & Data chose not to ring the changes when it came to replacing its fleet of Mercedes Vito vans, and instead dialled up more of the same.
The Cardiff-based firm recently took delivery of five new Long-bodied Vito vans from M-B local dealer Euro Commercials.
Among TWL's new Vito line-up is a 116CDI Sport, with 163hp engine and extra styling features including alloy wheels and chrome grille and sidebars. There's also a 136hp Vito 113CDI Dualiner equipped with a second row of seats, allowing it to carry a crew of five. The remaining three are Vito 113CDI panel vans.
The vans are the subject of a flexible Agility funding package from Mercedes-Benz Financial Services. This is said to offer all the benefits of conventional hire purchase with a Guaranteed Future Value (GFV) – including low monthly repayments – but gives customers extra options at the end of the term.
The GFV agreement is key to the Agility concept. At the end of the term the customer can choose whether to pay off the final lump sum and keep the vehicle, use the vehicle as a part exchange for a brand new one, or return it free of any further obligations, apart from an excess mileage charge if the initially agreed limit has been exceeded, and damage charges over and above fair wear and tear.
The Vitos are used by TWL's engineers, who visit customer premises to install telephone systems and data cabling throughout South Wales and the rest of the UK, with some contracts taking the business vans as far as Scotland.
Keep up to date with developments in our Business Van News section.
Business Vans offers a wealth of useful information including van weights, van MOTs and a range of reviews including Fiat van reviews
For more information, visit Business Vans at http://www.businessvans.co.uk/