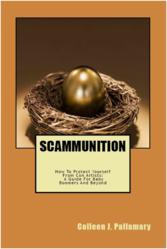 As a retired cop, I can see a place for her book on every consumer's and every cop's bookshelf.
- Ex-police officer Richard Craig Anderson,
Ocala, Florida (PRWEB) November 13, 2012
Florida based publisher Pallamary Publishing has announced the newest ammunition against the rising world-wide phenomena of fraudulent scammers and con artists, with its easy-to-use, information-packed, scam-protection guide authored by Colleen J. Pallamary, titled "Scammunition: How To Protect Yourself From Con Artists: A Guide for Baby-Boomers and Beyond."
The timely and much needed reference guide, based on the authors' lengthy experience as a scam expert with the Florida Attorney General's office and Seniors vs. Crime, is filled with simple, practical, real solutions on how to steer clear of and fight back against today's rampant scam artists.
The step-by-step handbook exposes scams within numerous categories: insurance, online, phone, postal, contractors, travel, sweepstakes, retail, identity theft, caregivers, military, veterans, seniors, social media and even funeral homes, arming readers of any age with specific tools of what to look for, how to stop a scam in progress and how to handle the horrific repercussions after being scammed.
The "Scammunition" book launch coincides with International Fraud Awareness Week of November 11-17, 2012, which encourages people to take proactive steps to minimize the impact of fraud by promoting anti-fraud awareness and education.
"Colleen Pallamary has been there, done that and bought the T-shirt," said ex-police officer Richard Craig Anderson," and as a retired cop, I can see a place for her book on every consumer's and every cop's bookshelf."
Written with Pallamary's sincerity, compassion and humor, it's as if she's sitting with the reader, as she has done for many years, literally holding the hands of scam victims, helping them through their crises, while empowering them with invaluable tools to take back their lives and stop future predators in their tracks.
Zach Hudson, CNN Hero 2012 for his work helping seniors, says, "This book is a must read for those who are concerned about the plight of the elderly in this country."
The 172-page reference guide includes step-by-step instructions, sample forms, hundreds of scam prevention tips and a comprehensive appendix of important state-by-state contact information of "fight-back" agencies from Better Business Bureaus to Consumer Protection Agencies to a Funeral Consumers Alliance.
Passionate about her cause and using her book as a training handbook, Pallamary plans to teach educational workshops with governmental, educational, private, public and senior organizations, and is available for interviews and speaking engagements to further educate people on arming themselves against con artists with "Scammunition".
Don Ravenna, President of Seniors vs. Crime, Inc., said, "Colleen identifies the most frequent ways that consumers are separated from their money. `Scammunition' is packed with easy to understand scam prevention tips."
"Scammunition: How to Protect Yourself from Con Artists: A Guide for Baby Boomers and Beyond" is available for reviews as an e-book and in print format upon request at Pallamary Publishing. Please click the contact page and request your review copy. Published copies are available for purchase now at your local bookseller and at
Amazon.com.
Retired Florida Assistant State Attorney, Robert Simpson says, "This book is a tool for both caregivers and the cared for and is first line protection for crimes against vulnerable people who can't say no. "
About the Author
Colleen J. Pallamary has been working on scam prevention issues for nearly a decade. She has lectured, written monthly columns addressing the scam topic, and received the 2005 Volunteer of the Year Award from the Florida Attorney General's Office for her work with the Seniors vs. Crime Project. In addition, she wrote, developed, and taught a Domestic Violence Awareness Program for female inmates at a county jail, continues to be an active volunteer in the community and continues her research into the scam phenomena. Originally from Dorchester, MA, she now lives in Ocala, Florida and can be contacted here on her Scammunition Facebook page.