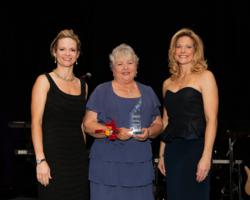 Lynda is an accomplished leader who strategically thinks about the bigger picture, connects the essential resources, and gets great results.
Chantilly, Virginia (PRWEB) November 20, 2012
AOC Solutions today announced that Lynda Mann, Vice President of their Performance Solutions business line and Co-Founder and President of the Board of The YouthQuest Foundation, received the Lifetime Achievement Heroines award at the 12th Annual Heroines in Technology Awards Gala. The black-tie event, sponsored by the Armed Forces Communications and Electronics Association (AFCEA NOVA] and the March of Dimes, honored the significant contributions of women in the technology community in five categories, rising heroines, government heroines, individual heroines, corporate heroines and lifetime achievement heroines for their outstanding commitment to community service.
"On behalf of the March of Dimes, I'd like to congratulate all the winners and finalists," said Tina Cavucci, Maryland National Capital Area Chapter Director. "Each of the winners and finalists involvement in the community is inspirational, and the March of Dimes is delighted to have the opportunity to recognize each of them."
An Army veteran with 26 years of service, Mann has engaged in every community in which she has lived. During the six years she served on the Commission for Women in the City of Fairfax, she worked with city officials to provide key awareness training for First Responders regarding human trafficking.
When she became aware of the critical social and economic issues associated with high school drop-outs, Mann initiated a grassroots movement that evolved into the YouthQuest Foundation, a viable national non-profit foundation that provides dropouts with scholarships and life-enriching activities. Her latest collaboration is a Science, Technology, Engineering and Mathematics (STEM)-focused job skills training project. YouthQuest newest initiative is to partner with Wounded Warrior amputees utilizing technology emerging from the Massachusetts Institute of Technology (MIT) to provide labs where at-risk youths partner with amputees to prototype objects specifically designed to assist the Wounded Warriors in improving their day-to-day living environment. Youth participating in the program gain problem-solving skills and benefit from technical training and experience as well as mentoring from key community members to prepare them for re-entry into the education system or entry-level technical jobs.
"We are proud of Lynda; she is deserving of the Lifetime Achievement Heroines Award for both her intellectual achievements and community service," said Allen O. Cage, Jr., AOC Solutions, Inc. founder and CEO, and co-founder of YouthQuest. "She is an accomplished leader who strategically thinks about the bigger picture, connects the essential resources, and gets great results. Lynda has spent many years supporting our community, and we continue to benefit from her ongoing commitment."
The gala was held November 9 in McLean, Virginia. More than 300 guests enjoyed dinner, music and dancing in addition to the awards presentation. To learn more about the event, visit the March of Dimes website.
About AOC Solutions, Inc.
AOC Solutions, Inc., established in 1996, offers best-in-class financial management products, program management, data management, e-commerce, and call center operations services that help financial institutions and public and private organizations become more successful by creating and implementing solutions that significantly reduce costs while increasing revenues. AOC headquarters is located in Chantilly, Virginia with offices in Georgia, West Virginia, Florida, and satellite offices throughout the United States.
About The YouthQuest Foundation
YouthQuest provides scholarships and life-enriching activities for America's at-risk youth, particularly high school dropouts. America's annual dropout rate is 30 percent and has been since 1970. For Hispanics and African Americans, the rate is nearly 50 percent. Unfortunately America's prison system is made up of nearly 70 percent high school dropouts. YouthQuest seeks to provide an alternative for these youth between the decision to drop out and the decision that lands them in the penal system. For more information, please visit http://www.youthquestfoundation.org
About AFCEA NOVA
The Northern Virginia Chapter of the Armed Forces Communications and Electronics Association (AFCEA NOVA) is partnered with the March of Dimes in support of the Heroines in Technology awards program. AFCEA fosters an ethical dialogue between industry, government and academia on the effective use of technology.
About the March of Dimes
The March of Dimes is the leading nonprofit organization for pregnancy and baby health. With chapters nationwide and its premier event, March for Babies, the March of Dimes works to improve the health of babies by preventing birth defects, premature birth and infant mortality. For the latest resources and information, visit marchofdimes.com or nacersano.org.