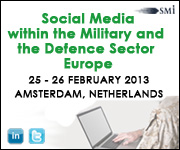 London (PRWEB UK) 13 November 2012
The social media phenomenon has created an emerging and critical communications platform which has, in turn, become a valuable strategic resource for today's defence community. Beyond the enhancement of civil-military engagement, recruitment opportunities and internal and strategic communications, the utilisation of social media can also be a major contributor to mission success.
Against this backdrop, SMi Group's conference taking place in Amsterdam, Netherlands will provide an in-depth analysis into how this evolving medium can further benefit the military and the defence communities, with case studies and presentations delivered by senior military personnel offering valuable lessons to learn from which will serve to improve existing communication strategies.
Network with and hear presentations from:

Dr. (Colonel) François Chauvancy, Senior Officer, Ministry of Defence - France
Lieutenant Colonel Ulrich Janßen, DEU (Army) OF-4, Deputy Director ISTAR Department, StratCom, Mil Info Ops, PSYOPS SME, Course Director/Instructor, NATO School
Lieutenant Colonel Mario Masdea, Chief of the NDC Public Affairs Office, ITA-A, NATO Defence College
Dr. Charlene Stokes-Schwartz, Ph.D., Trust Research Lead - Human Trust and Interaction Branch, US Air Force
Dr. Harald Schaub, Head of Department - Human Factors and Systemic Analysis, IABG
Miroslava Pašková, Director Social Media Communication and Military Community Support, Ministry of Defence Czech Republic
Colonel Jyrki Heinonen, Director of Public Affairs, Finnish Defence Forces
Lieutenant Colonel Ian Woodbridge, Chief Public Affairs, HQ ARRC
Captain Danel Apse, Staff and Signals Battalion, Chief of Training and Development Centre of Command, Control and Communication Systems, Estonian Defense Forces
Tim Kempert, Chief, Cyber Training Initiative, US Strategic Command
Amit Srivastava, Senior Scientist, Raytheon Technologies
John Verdon, Senior Strategic Analyst, Department of National Defence, Defence Research and Development - Canada
View the complete speaker line-up and latest conference programme at: http://www.smi-online.co.uk/military-socialmediaeurope30.asp
About SMi Group
The SMi Group is a highly professional, independent and global event production company that specialises in Business-to-Business Conferences, Workshops and Masterclasses, and online Communities. We create and deliver events in the Defence, Security, Energy, Utilities, Finance and Pharmaceutical industries.