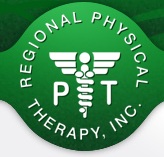 We see significant improvements in our patients who use the SwimEx, because we can change the resistance and pool counter-current, which makes the training gradual and individualized
Midwet City, OK (PRWEB) November 19, 2012
Knee injuries are the most common cause of the athlete being lost for the season, according to sportsmedinfo.com. Statistically speaking, 50% of all season-ending injuries are due to sprains or dislocations in the knee, 30% are due to tears, and 5% are due to fractures. The remaining 15% are due to other causes (1). For athletes or others with knee pain or injury who visit Regional Physical Therapy in Midwest City, Oklahoma, relief may be found through the SwimEx, and they will not have to end their athletic or exercise season early.
In 2007, Regional PT acquired a SwimEx, an NBA-sized pool that contains a full wall of current created by a paddlewheel. This current allows runners and swimmers to train at high velocity while staying in the same place. It also works for anyone who needs to have resistance added to exercise, from slight to very strong (depending on the speed of the current). The ability to train higher-level athletes is greatly improved with the SwimEx.
The therapeutic value of aquatic therapy in a SwimEx pool (2):

Allows various levels of aquatic therapy activity, even in the acute stages of rehab—helping to raise morale;
Allows water to counteract gravity and supply support, thereby reducing pain, spasm and swelling;
Provides a resistive wall of water as an effective and safe means of performing strengthening, functional and sports-specific activities.
In a recent case study, the SwimEx proved to be an essential tool for a 20-year-old female who was on scholarship to run cross-country for the University of Central Oklahoma (UCO). She had been unable to run due to knee pain. After almost three months of conservative treatment, she still had no relief of her symptoms. Soon after, she was referred to Regional PT for physical therapy services. After receiving MRIs and X-rays, it was determined that she was not a candidate for surgery. Upon evaluation of the athlete, it was noted that she had some tenderness of the knee below the joint in the area of the sartorius insertion. The pain was further increased when the tibia was externally rotated.
The course of treatment was to include aquatics, where she could run against a current at 30% weight-bearing during therapy while maintaining her cardiovascular endurance and musculoskeletal strength. Using the SwimEx allowed her to train in a pain-free environment that other pools wouldn't have been able to reproduce due to lack of a resistive current. After one month of progressing gradually to higher levels of weight-bearing, she was able to begin running on the treadmill. One week later, she was able to return to her normal training routine with her team at UCO. Her scholarship was saved, and she continued her education.
"We see significant improvements in our patients who use the SwimEx, because we can change the resistance and pool counter-current, which makes the training gradual and individualized," commented Vicki Buchanan, owner of Regional PT.
In addition the SwimEx technology and aquatic therapy, Regional PT offers on-site physical therapy, comprehensive programs and massage services. For more information, visit http://www.regionalpt.com.
About Regional Physical Therapy, Inc.
Based in Midwest City, Oklahoma, Regional Physical Therapy, with over 50 years of combined experience, performs tailored, comprehensive treatment plans to fit individual needs. Regional Physical Therapy was founded in 1993 by owner Vicki Buchanan, who attended the University of Oklahoma Health Sciences Center and graduated with a degree in Physical Therapy. Dedicated to the late co-founder Bruce Hawkins, the Bruce Hawkins Scholarship award was established by Regional Physical Therapy, Inc., in 2009 to give back to the profession that Bruce was dedicated to advancing. The Bruce Hawkins Scholarship has been awarded to Oklahoma University students who show outstanding leadership characteristics and embody the spirit of dedication to the profession of physical therapy. Regional Physical Therapy uses the team approach to help patients regain lost function, with the purpose of providing high-quality physical therapy services to the community. For more information, visit http://www.regionalpt.com.
(1) Sportsmedinfo.com, Accessed November 5, 2012. "Knee Injuries-Outline." http://www.sportsmed.info/sportsmed/knee.html
(2) SwimEx.com, Accessed November 5, 2012. http://www.swimex.com