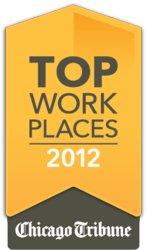 "It is a privilege to work with people who are so passionate about their careers and dedicated to providing a quality experience for our customers."
-- Mark O'Hara, President, Anderson Pest Solutions
Elmhurst, Illinois (PRWEB) November 15, 2012
Anderson Pest Solutions is pleased to announce that it has been selected as one of The Chicago Tribune National Standard Top Workplaces.
The Top Workplaces are determined based solely on the results of an employee survey. Any organization with more than 100 employees in the Chicago area is eligible to participate in the program. The survey is conducted by a leading independent research firm on organizational health and employee engagement which conducts regional Top Workplaces programs with more than 30 major publishing partners and recognizes a National list of Top Workplaces.
The Top Workplaces survey asked employees to grade Anderson in areas including opportunities to learn and grow, work/life balance, compensation and benefits, confidence in management and leadership, quality of training, and how the employee is valued by the organization.
Mark O'Hara, President of Anderson Pest Solutions, stated, "We're honored to receive this recognition, particularly since our employees were the judges. It is a privilege to work with people who are so passionate about their careers and dedicated to providing a quality experience for our customers."
Current job positions available at Anderson Pest Solutions are posted at http://www.AndersonPestSolutions.com/careers.
About the Top 100 Workplaces Award
The Chicago Tribune, via a contracted workplace survey specialist, surveyed employees of over 180 companies to identify and rank companies for the Top 100 Workplaces list. Divided into three categories: small (fewer than 250 employees), medium (250-999), and large (1,000 and above), surveyed companies employ 212,756 people in the Chicago area. 128,430 Chicagoland employees received surveys, and 67,665 responded to a set of statements about their feelings toward their workplace focused on issues such as the direction of the company, execution, and conditions.
About Anderson Pest Solutions
Anderson is the largest family owned pest solutions company in the Midwest, ranked 32nd largest in the nation in 2010 by Pest Control Technology magazine. Since 1913, Anderson's only business has been providing solutions for pest issues for residential and commercial properties in Illinois, Indiana, Michigan, Missouri, Wisconsin, and Indiana. Anderson's service is backed by one of the strongest customer satisfaction guarantees in the industry.
Anderson is a recipient of the Environmental Protection Agency's "gold" status, and was designated by the EPA as an "outstanding environmental steward" for their "demonstrated commitment to pesticide risk reduction."
For more information, visit http://www.AndersonPestSolutions.com, email info(at)anderpest(dot)com, call toll-free 866.696.BUGS, or write the company at: Anderson Pest Solutions - 501 West Lake Street, Suite 204, Elmhurst, Illinois 60126.