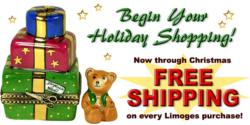 Just in time for the Holiday Shopping Season, Collectors and gift buyers can take advantage of Free Shipping on any purchase from an incredible selection of magnificent hand-painted French Limoges boxes.
Los Angeles, CA (PRWEB) November 14, 2012
LimogesBoxCollector.com, retailer of the top brand French porcelain Limoges boxes, is proud to announce Free Shipping on the entire collection of French porcelain Limoges boxes. Now through Christmas, luxury gift shoppers and Limoges collectors can take advantage of great savings on an extensive selection of magnificent French hand-painted porcelain Limoges boxes in every theme.
A fantastic selection of Limoges boxes have been added to the LimogesBoxCollector.com website for this special occasion. Among the newly-arrived Limoges boxes are many Exclusive styles and favorites by Beauchamp Limoges. A large collection of retired, out-of-production, antique and ultra rare Limoges boxes have also been added. The Limoges box collection features top of the line French porcelain gifts, hand-painted by the most artistic Limoges artisans in Limoges, France.
Collectors and gift buyers who want to give gifts with a big 'wow factor', can choose from a very extensive selection of beautiful hand-painted French Limoges styles for meaningful and lasting gifts.
To make the Holiday gift purchase even more special, LimogesBoxCollector.com offers an artist hand-inscribed personalization service. Any gift recipient would greatly appreciate a Limoges box that is personalized to commemorate a special occasion, event or holiday.
French Limoges boxes are among the top collectibles in the US and the term "Limoges" is widely recognized and admired. These captivating miniature works of art make the perfect gift for the Holidays as well as any occasion. Whether it is a birthday, the arrival of a newborn baby, wedding or anniversary, a special trip or special interest such as sports, sewing or gardening, a Limoges box will capture the sentiment in a very special way.
The incredible beauty and craftsmanship of the French Limoges makes these magnificent works of art wonderful keepsakes to proudly display, enjoy and share with visitors in any home.
LimogesBoxCollector.com has become a great favorite and preferred source for exquisite, top-of-the-line Limoges boxes for numerous Limoges collectors and gift buyers all across the United States. LimogesBoxCollector.com is not only known for its fantastic selection of top quality, authentic Limoges boxes, but also for its exceptional customer service and very fast shipping. Every Limoges box offered in its website is in stock and every purchase is shipped the same-day as purchase. The Free Shipping option is dispatched through USPS Priority Mail with an estimated arrival of within 3 days.
As the exclusive distributor for the prestigious line of Beauchamp Limoges and an authorized dealer for all top Limoges brands, LimogesBoxCollector.com continually adds newly arrived Limoges boxes directly from the manufacturing artists in Limoges. Retired, out-of-production and rare Limoges boxes are also continually added. With every visit, shoppers find a great selection of new-arrivals to choose from to enhance their collection.
Every Limoges box offered in the collection is fully guaranteed to be 100% genuine, produced and crafted entirely in Limoges, France. Each Limoges box bears the insignia of the artists as well as the designation "Peint Main" signifying that the Limoges box is painted by hand. The term "Limoges, France" is also included in the insignia as a guarantee of the Limoges being manufactured in the Limoges region of France.
When purchasing collectibles, it is of utmost importance to find a trusted source who guarantees quality and authenticity as well as excellent expert customer service. For those who seek the highest quality, great selection and competitive prices, they will find a trusted source in LimogesBoxCollector.com, an authorized Limoges dealer for over a decade and the #1 choice for Limoges collectors and gift-buyers worldwide.
About LimogesBoxCollector.com: LimogesBoxCollector.com is an authorized dealer and direct importer of all French Limoges lines and is the exclusive distributor and retailer of the luxurious line of Beauchamp Limoges boxes. The company is owned by Grand Dezign, Inc. and has served the US and international community for over a decade. As one of the largest Limoges dealers in the US, LimogesBoxCollector.com offers thousands of Limoges boxes in hundreds of styles for every taste and budget. Excellent customer service, same-day shipping and competitive pricing, has made LimogesBoxCollector.com a favorite source for French porcelain Limoges boxes.
For more information, please contact:
Customer Relations Specialists
LimogesBoxCollector.com
310-922-2899
http:// http://www.limogesboxcollector.com