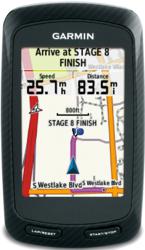 These are the lowest prices any dealer has ever been allowed to have on both products
Bozeman, MT (PRWEB) November 13, 2012
Garmin Forerunner 610 will be $100 Off and the Garmin Edge 800 $150 Off beginning Friday, November 23rd and ending Monday, December 3rd at the Heart Rate Watch Company.
"These are the lowest prices any dealer has ever been allowed to have on both products," says Rusty Squire, President of the Heart Rate Watch Company. He adds, "I use both products personally and they are the nicest GPS watch and bike computer combination that Garmin makes in our opinion."
The Garmin 610 is the world's first touch screen navigation GPS watch and can function perfectly as a running watch or a cycling watch providing all data related to heart rate, speed, distance, post-ride maps and elevations, training effect and more. "It truly is the nicest GPS watch with the exception of triathlon and ultra-endurance over 7 hours," says Squire.
The Garmin Edge 800 is the only fully navigational bike computer with mapping and turn-by-turn directions. It also offers dozens of metrics, pacing features, power and about every known cycling measurement. "I've used this bike computer for over a year and it is truly phenomenal and nothing else comes close to replicating it," says Squire.
Black Friday will be an extra special savings day for the Garmin Forerunner 610 and the Garmin Edge 800. "Given the pricing Garmin is allowing it should be the biggest sales day in history for both products," says Squire, adding, "I've already had to tell people who were preparing to buy both products to wait until November 23rd so they can save big."