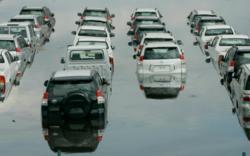 With the product[Rusterizer], the site stated that one could implement both an effective and safe rust treatment.
Seattle, WA (PRWEB) November 14, 2012
Hurricane Sandy left thousands, probably even millions, of cars submerged in water for days. And as they could be sold all throughout the country, AAA issued a warning to the public about their existence, reported tri-cityherald.com. Meanwhile, to those owners who don't intend to sell their flooded automobiles, Optimal Chemical advised the use of Rusterizer to save their cars from rusting.
Grab a Sample of Rusterizer Today
Based on the report, because there is a short time between the vehicles being damaged and then sold, often, they are not identified as flood-damaged in the databases. So to prevent ending up buying them, AAA advised secondhand car buyers to inspect the automobile first before making the purchase.
As the company's Washington vice president of Member Services, John Milbrath, said, "Flood water is a corrosive and abrasive mixture of water and dirt that forces its way into every seam and crevice of an automobile." And as he added, among the parts it usually damages are the engine, transmission and parts of the driver train. With that said, Optimal Chemical asserted that they are the particular car parts that a buyer must check or inspect.
Get the Best Help to Restore Your Rust-Damaged Car
Nonetheless, the website acknowledges that not all flood-damaged car owners would like to sell their automobiles. Instead, they would just want to clear the rust or be ready for it, if ever it shows up. In that case, Optimal Chemical said that a rust spray is needed. Particularly, it stated that Rusterizer is the needed help.
With the product, the site stated that one could implement both an effective and safe rust treatment. It explained that the product is made with natural ingredients and so it presents no chemical-related health risks. More than that, the said Rusterizer is now available with 30% discount. Hence, its users could also enjoy a big saving.
Order Rusterizer Today and Restore Your Car With a Big Discount