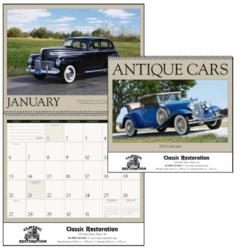 "Despite newer digital alternatives, printed calendars continue to be popular, but it will soon be too late for businesses to get them in time for holiday giving." - John Bagwell, Bagwell Promotions
Dallas, TX (PRWEB) November 15, 2012
Bagwell Promotions reminds businesses that this is the last opportunity to order calendars as promotional giveaways in time for the 2012 holiday season.
"Despite newer digital alternatives, printed calendars continue to be popular, but it will soon be too late for businesses to get them in time for holiday giving," reports John Bagwell of Bagwell Promotions. "This is a top choice for year-end promotions and into the New Year. Customers appreciate them, and by giving them out, businesses ensure continued exposure throughout the coming year."
A physical calendar enlivens the living or working space of the recipient and will be consulted every day. This provides the business with top-of-mind awareness among prospective clients over the months.
"Whether it is hanging on the wall or sitting on a desk, the customer is regularly reminded of the business when the calendar is consulted," continues Bagwell. "This translates into increased sales for the company."
Photo series calendars associated with the activities of the business are particularly good choices. Automobile repair companies often share calendars with pictures of hot sports cars. Churches may select calendars that show happy families or religiously themed pictures.
Along with the logo and contact information, the images help reinforce the brand identity of the organization. Other popular choices are Americana, scenic views, and baby animals.
During the holidays many businesses provide a new calendar as a thank you gift for valued customers. For the last eight years, Kirk Brown has ordered the three month Insta-View Calendars with the company logo at the top for Crescent Land & Title.
Brown says that "We start getting calls in October from attorneys and government offices in Northern California wondering when they will get their calendar. We even have a client in Oklahoma who sends a note and a check to cover postage. Of course we return the check when we send the calendar to them."
Brown says that the quarterly calendars are traditional for title companies in California and he orders 300-400 each year. After his previous supplier closed, he couldn't get the calendars for a couple of years but was really glad when he finally found a new source. He has been ordering from Bagwell promotions for about eight years now and the response shows that the calendars are a great promotional tool.
The 2013 calendars from Bagwell Promotions come in a range of versions and new looks. Wall calendars, desk calendars, diaries and planners, and calendar magnets in many styles are still available. Ordered soon, many kinds of personalized calendars can be shipped to organizations within 7 – 10 days.
Additional information is available at Bagwell Promotions or by calling toll free 1-866-281-8830. http://www.bagwellpromotions.com/calendars/
About Bagwell Promotions:
[Bagwell Promotions offers over 500,000 imprinted promotional products from 4,100 suppliers including coffee mugs, pens, flashlights, magnets, ID bracelets, key chains and an assortment of apparel. In addition to calendars, Bagwell Promotions also provides other items for Christmas and Holiday promotions including personalized ornaments and delicious holiday edible treats.
Contact:
John Bagwell
1-866-281-8830