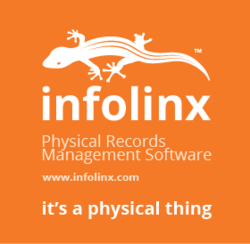 Kensington, MD (PRWEB) November 15, 2012
Infolinx™ System Solutions, a leading provider of enterprise physical records management software, announced the upgrade to Infolinx WEB 3.2 by the Library of Virginia. The enterprise solution encompasses the Virginia State Archives and the State Records Center. The initial implementation of Infolinx replaced six databases serving ten departments and affected approximately 70 library staff members. The upgraded solution extends the functionality surrounding the tracking and management of archival records, security microfilm and microforms, and non-permanent boxes at the State Records Center.
"It took staff several years to assess agency needs, evaluate and select software, and configure and implement Infolinx because of the size and scope of the Library's collections, programs, and services," said Librarian of Virginia Sandra G. Treadway. "Staff representing State Records, Local Records, Private Papers, Imaging Services, Access Services, Records Analysis Services, the State Records Center, and Information Technology worked on the project to create the unified system."
Available to new clients or those wishing to upgrade from previous versions, the 3.2 feature-set includes:
A completely redesigned Web 2.0 interface with context-sensitive help, making extensive use of Ajax, and compatible with IE, Firefox, and Chrome browsers
New data manipulations tools including the introduction of range-based data fields, keyword-searching, and delete/undelete/expunge capability
The introduction of Microsoft Reports supporting on-demand or scheduled out-of-process execution and delivery
E-mail-based workflow notifications initiated by virtually any application action or data change
Expanded Request functionality
Advanced support for Retention, Legal Holds, and Citation reference
Deepened Security Model allowing for advanced data/functionality hybrid configuration
Contemporary technical platform compatibility including support for Server 2008, SQL Server 2008, Oracle 11g, IIS 7.0 and ASP.NET 3.5
Optional Features such as Laserfiche integration, Iron Mountain integration support, Space Management, enhanced storage and process based billing support, and supply item management
About Infolinx™
Infolinx System Solutions is a leading provider of DoD5015.2-certified enterprise physical records management software. Full life cycle records management for archives, records centers and file rooms includes integrated Enterprise Content Management, robust searching, online requesting, complete audit history, location reconciliation, supply item ordering, retention schedule and legal holds management, integrated RFID technology, space management with charge-back functionality, extensive reporting capability, advanced security configuration, workflow email notifications, and legacy data sharing. Infolinx maintains clients within all major business segments and the public sector. Infolinx System Solutions Demo.