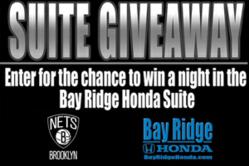 Brooklyn, NY (PRWEB) November 14, 2012
Bay Ridge Honda is a local Honda dealership based out of Brooklyn New York. The dealership is always active in the local community, more so now than ever with the super storm Sandy that recently hit the area. That is why the ownership of Bay Ridge Honda was so excited when the professional basketball team, the Nets, returned home to Brooklyn.
After 35 seasons in New Jersey, the team finally returned to the State of New York this year to play in the new Barclays Center in Brooklyn as the Brooklyn Nets!
The Barclays Center is a multi-purpose indoor arena in Brooklyn, New York that sits partly on a platform over the Metropolitan Transportation Authority-owned Vanderbilt Yards rail yard at Atlantic Avenue. The Barclays center new $1 billion dollar state of the art arena is now home to the Brooklyn Nets.
For a limited time Bay Ridge Honda is offering a chance to win a Suite at the Barclays Center to watch a Brooklyn Nets game with you and your friends or family. The dealership will draw weekly winners who can stop by the dealership to pick up their Suite tickets and enjoy a lovely evening at this exciting new arena to watch a live Nets game from the luxurious Bay Ridge Honda suite.
If you are from Brooklyn or staying near the Brooklyn area and want to get your name into the drawing, simply visit the Facebook Suite giveaway page for Bay Ridge Honda and enter your information.
Once you are registered, you will be provided with a custom tracking URL. If you are looking for a way to get extra entries into the contest simply share your custom link the giveaway, anyone that registers using your custom link will also give you an additional entry in addition to theirs!