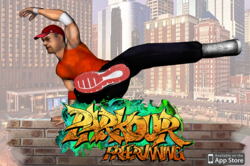 "As I was coached by the founder of America Parkour on official Parkour and Freerunning moves, I knew this app was going to need a new strategy for the advanced animations and demand the best of every team member" J. Tanner, CEO, Pro App Developers
Clearfield, Utah (PRWEB) November 19, 2012
Available today, the app Parkour Free Running has over 20 official aerial tricks and vaults, each reviewed and approved by American Parkour. This app brings a new standard to app animation as gamers soar from building to building collecting coins and sponsor credits with the ultimate goal of completing each objective and unlocking the David Belle Achievement award.
Gamers that play Parkour Free Running will be moving among three unique environments. Each player starts in the hallway of a skyscraper and rapidly moves to the city's rooftops where they will have to maneuver up, down, left, and right as the path rapidly changes elevation and direction. As players advance along the path they are introduced to unfinished construction sites and can leap into hallways where the intensity increases while visibility becomes more challenging. Gamers collect coins and sponsor credits that unlock power ups, new players, and ultimately the David Belle Achievement Award. To make the game interesting for all levels, objectives are listed to increase difficulty and make game play more exciting.
Parkour Free Running is now available worldwide for free on Apple's iTunes store.
Please visit http://www.proappdevelopers.com/parkourfreerunning for more app info, including videos and screen shots of the app.
Parkour Free Running app was developed by Pro App Developers LLC., a mobile app development company that was founded in 2011.