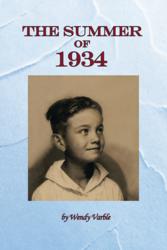 Sometimes the best way to make sense of the present is to understand the past.
LOS ANGELES (PRWEB) November 15, 2012
When Americans think about California during the Great Depression, many recall John Steinbeck's unforgettable literary characters or the iconic photography of Dorothea Lange. But who were the people behind those recollections, and what were their stories?
Author and lifelong Simi Valley resident Wendy Varble brings readers into that world in The Summer of 1934. Inspired by her husband's upbringing in the Valley during the 1930's, Varble gives readers a look into the often-romanticized lives of the Depression-era ranchers and farmers of Steinbeck's California. Follow the challenges of a young boy growing up during this fascinating time in our nation's history, as he learns the virtues of hard work, discipline and perseverance.
"I wrote this book because the people and the culture of Simi Valley have a story to tell," said Varble. "Growing up in the Valley, I learned lessons that people today just aren't exposed to anymore."
The Summer of 1934 is the perfect story for history buffs, nostalgia seekers and especially young people, as they discover a people, a culture and a past that's still alive today.
For more information, visit http://bookstore.authorhouse.com.
The Summer of 1934
By Wendy Varble
ISBN: 978-1-4772-7697-6
Softcover, retail price: $14.95
Hardcover, retail price: $23.99
E-book price: $3.99
About the author
Wendy Varble is a life-long resident of the Simi Valley in California. She spent much of her childhood riding horseback through most of the locations described in this book. The history of the Valley, especially the details of early 20th century life there, has always fascinated her, and she has been an active member of the Simi Valley Historical Society for several decades.
The author's husband of 35 years was born in the Simi Valley in 1928 and spent his entire childhood there. Through the years he described to her in great detail what life was like in the small community during the Depression-era of the mid-1930s. Hearing those stories (and countless other oral histories from many of the Simi Valley "old timers" she was surrounded by as a child) inspired her to record them in a way that is both entertaining and enlightening for anyone with an interest in this intriguing area of Southern California.
# # #