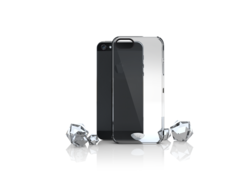 Designed for the purist, claro for the iPhone 5 takes the clear, hard case to the next level
Toronto, Ontario (PRWEB) November 14, 2012
iSkin, a premium brand for fashion and technology lifestyle accessories for the mobile generation, today announced the availability of the iSkin claro for iPhone 5. Designed to be the clearest way to protect and enhance the iPhone 5, the claro's lightweight and ultra-slim design adds mere millimetres to the iPhone 5's slim profile.
Designed for the purist, claro for the iPhone 5 takes the clear, hard case to the next level. Featuring a transparent, colorless high-gloss finish, the claro is about taking notice of what's inside. Unlike similar clear, hard cases, claro features a built-in, anti-glare camera ring which resists glare when taking flash-assisted photos in dark environments.
The main distinction of the claro, however, is its exclusive side-rubberized grip and scratch-resistant exterior. The claro's rubberized side grips are designed to give owners a secure grip on their iPhone 5 while providing protection to its volume buttons from wet or dirty hands. The exterior surface of the claro is anti-scratch coated, allowing a clear view of the iPhone 5 beneath it.
The claro by iSkin is the only snap-on case to feature these innovative enhancements. The claro retails for 29.99 USD and is available online at iSkin.com and is soon to arrive at select retailers worldwide.
About iSkin Inc.
iSkin Inc. has been one of the world's most trusted mobile accessory brands since its first advanced protective solution for the iPod® in 2002. Known for its cool, innovative designs and fashion-forward style, iSkin continues to be the leading mobile accessory brand. iSkin continues to focus on delivering the highest quality, innovative design and fashion-forward style in accessories for Apple®, BlackBerry® and Samsung®.
The iSkin word mark and logo are registered trademarks of iSkin Inc., registered in Canada, the United States and other countries. All Rights Reserved 2006-2012. Apple®, iPhone® 5 and iPod® are trademarks of Apple Inc., registered in the U.S. and other countries. Other company and product names mentioned herein are registered trademarks of their respective companies.
Contact:
Press(at)iSkin(dot)com
http://www.twitter.com/iSkin
http://www.facebook.com/myiSkin