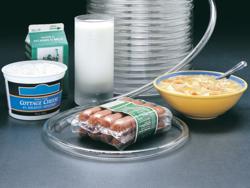 Vernon Hills, IL (PRWEB) November 13, 2012
The recently updated Masterflex® Tygon® E-Food Tubing from Cole-Parmer is now available for use in Masterflex peristaltic pumps. The newly formulated E-Food Pump Tubing is BPA- and phthalate-free and meets FDA 21 CFR 175.300 and 3A sanitary standards. It is NSF (Standard 51) and ADCF compliant.
Tygon is the preferred tubing of the food industry, with a smooth nonporous bore that will not trap particles or promote bacterial growth. This tubing is compatible with foods containing high oil content. It is engineered for long life in peristaltic pumps and is custom extruded to fit Masterflex pumps. As a high-performance precision pump tubing, it is the best choice for applications involving pressure, suction lift, or viscous fluids. The Masterflex® Tygon® E-Food tubing works with temperature ranges of −44 to 74ºC (−47 to 165ºF).
For more information about the Masterflex® Tygon® E-Food Tubing, call 866-802-2582 or visit ColeParmer.com/19556.
Cole-Parmer has been a leading global source of laboratory and industrial fluid handling products, instrumentation, equipment, and supplies since 1955. Our product lines, including popular brand names such as Masterflex®, Oakton®, and more, are sold through company-owned customer channel outlets and a strong network of international dealers. We also feature an ISO-17025-accredited metrology lab for instrument calibration and repair. Cole-Parmer responds with excellence to customer needs, and offers application expertise and technical support. For more information, contact Cole-Parmer, 625 East Bunker Court, Vernon Hills, IL 60061. In the US, call 800-323-4340. International customers, call 847-549-7600. Visit us at http://www.coleparmer.com.